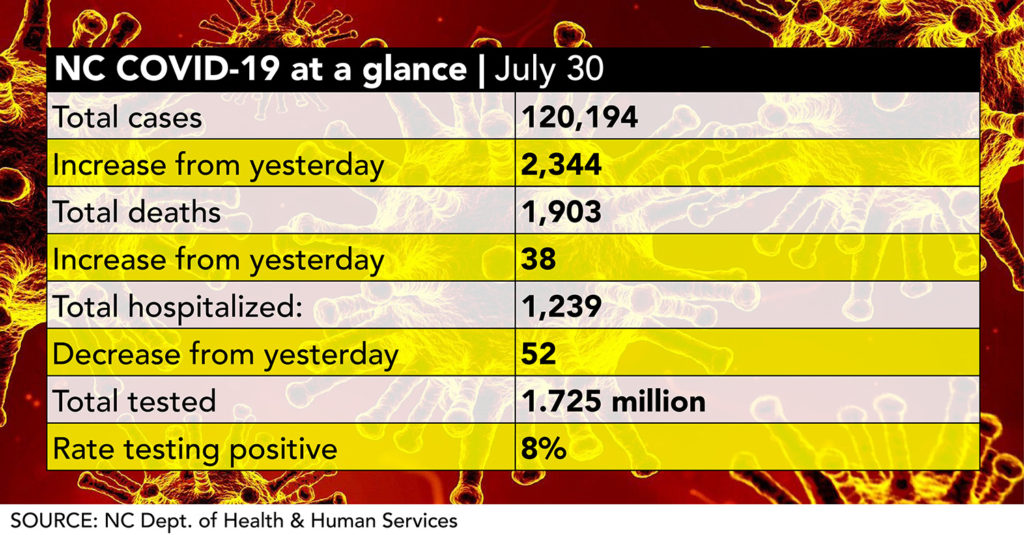 July 30. By Dave Yochum. An additional 2,344 people in North Carolina have tested positive for the coronavirus, and 38 more have died, according to today's noon update from the NC Dept. of Health & Human Services. The totals statewide now stand at 120,194 cases cumulative since tracking began here in March, and 1,903 deaths.
Deaths due to the coronavirus nationwide surpassed 150,000 between yesterday and today.
Hospitalizations statewide went down, however, from a high of 1,291 on Wednesday to 1,239 today, a decline of 52.
North Carolina averaged 29,000 tests per day last week, with a total of 1.724 million tests so far. The rate at which they come back positive is running at 7-8 percent, down from recent weeks. The target is 5 percent.
Good news
The trajectory of new cases, while still up, is lower than it has been in recent weeks.
Using Johns Hopkins University's data, we tracked North Carolina's new confirmed cases of COVID-19 per day from June 29 through July 29. The state's median number of cases over the past month is 1,837. The past seven-day median is 2.89 percent lower at 1,784.
County-wide, the COVID-19 data worsened between yesterday and today, with 337 new cases reported in Mecklenburg by the NCDHHS, for a total of 20,261. Deaths rose by three, to 195.
While Mecklenburg has roughly 10 percent of the state's population, the county accounts for 14.3 percent of the state-wide cases per day over the past week. (Based on averages.)
North Meck towns
In Cornelius, there were four new cases overnight for a total of 340, up 10.8 percent from one week ago. There have been no new deaths in weeks, virtually all of them having occurred at the Autumn Care nursing home on Zion Avenue in the spring.
In Davidson, there were five new cases between yesterday and today's NCDHHS report, for a total of 179. That's up 17 percent from one week ago. There were no new deaths.
In Huntersville, there were 14 new cases for a total of 545, up 14.7 percent from exactly one week ago. There have been no new deaths in 10 days.