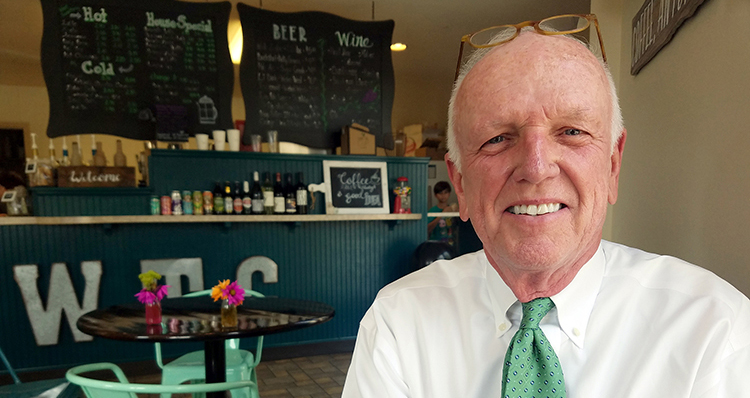 March 7. By Dave Yochum. Mayor Woody Washam will seek a second term at the helm of Cornelius government.
The long-time community leader, two-term town commissioner, banker and church organist has also chaired the Lake Norman Chamber of Commerce.
Two years ago Washam replaced former Mayor Chuck Travis, who withstood a 5-0 no-confidence vote in 2016, after traveling to Raleigh to lobby for the Cintra-NCDOT toll plan on I-77.
It's early, but so far no one has declared his or her candidacy for mayor or town board.
Filing opens July 5 and closes July 19. Washam will hold his first campaign fundraiser in early April when he will officially open his re-election campaign.
At a "State of the Town" community meeting on Monday, Washam outlined achievements during the past year, including new top brass at Town Hall, including Town Manager Andrew Grant, and Chief Kevin Black at the Cornelius Police Dept.
The $7 billion town
Cornelius is a $7 billion town, based on values established by the Mecklenburg County Tax Assessor—even with potential appeals factored in. That's up from $5.55 billion.
At the state of the town Washam also discussed the addition of new signal light controls on West Catawba, renovations at Smithville Park and the fire department's new fire engine.
Washam backed $24 million in transportation bonds that were approved by voters in 2017.
The bonds helped gin up a total of $112 million in state funds, advancing a wide array of road improvement by 20 years.
Upcoming construction projects include widening West Catawba from Jetton to Sam Furr; major improvements at West Catawba and Torrence Chapel and at Hwy. 21 at Cashion's; and a new roundabout at North Main at Davidson Street near the YMCA.
Washam said 2019 presents challenges and opportunities, including setting the new tax rate for Fiscal Year 2019-2020.
Town-wide, total property values have risen about 30 percent.
"I guarantee you the rate will drop I just don't know what yet," Washam said.
Growth in moderation
Growth and traffic have also been an issue. Washam said there are "less than 450 permits coming out of the ground" in Cornelius vs. 6,000 or more in Huntersville.
"What we do have coming out is top quality," Washam said. No new apartments have been approved since 2012. A large portion of new residential is age-restricted, less of a burden on town resources than multi-family or first-time homes.
The mayor also said the Cain Center for the Arts will break ground in 2020, with the potential to transform downtown.
The Town Board on Monday approved a $1.8 million contract with  C-Design Inc. to fully design the Cain Center on a site just west of the Police Station downtown.
The project in total is worth some $25 million. Voters approved a $4 million bond issue in 2013 to help fund the arts center. Ericka and Bill Cain, the owners of Financial Independence Group on West Catawba, have donated $5 million.
Plans call for a 30,495 square foot building with a 400-seat theater, multiple classrooms, gallery space and theater support functions.