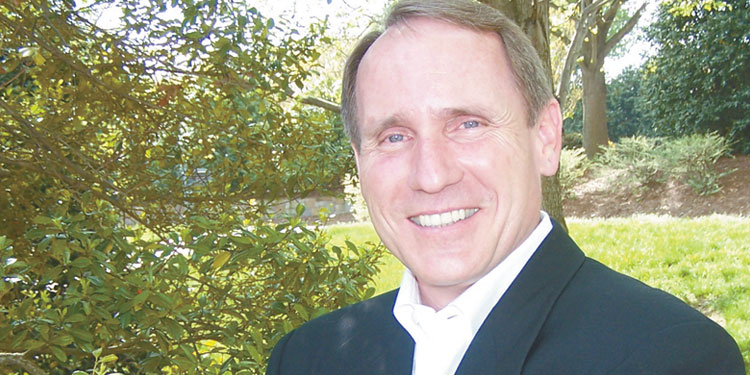 Mayor Chuck Travis, who is running unopposed for a second term at the head of local government, says fixing the aesthetics of the Exit 28 bridge, providing lake access for residents and planning an arts center are among his goals during the next two years.
Travis says achieving those goals "will help with economic development and the quality of life for residents."
He outlined a number of achievements during the past two years, all of them accomplished while Cornelius  maintained "the lowest tax rate of any municipality of comparable size and service levels in the state."
A nationally renowned architect, Travis lives on Mollypop Lane with his wife Janice. He is the founder of Housing Studio in Charlotte. In May he was elevated to Fellowship in the American Institute of Architects, the highest honor bestowed by the organization.
He served two terms on the Town Board before running unopposed for mayor in 2013. We asked him the following questions as the campaign season gets under way:
Q: What are you proudest of in terms of your service as Mayor of Cornelius.
Transitioning the first response 911 calls for Lake Patrol from Charlotte/Mecklenburg Police  to the Cornelius Police Department. This will provide 24/7 response to issues on our lake and protect our residents year round.
Implementation of the first release of Bond dollars for transportation improvements, greenway construction and park improvements and  much needed park maintenance.
Updates in our 911 call center to improve efficiency and levels of service from our first responders.
Purchasing a new ladder truck for our Volunteer Fire Department, and training/fitness equipment to keep our firefighters at their best.
Expanding our Community Garden.
Continuing to build sidewalks to promote walkability.
Working with the County to finally have public swimming back in our Town at Ramsey Creek.
Refurbishing fishing ponds at Robbins Park from essentially "dead ponds".
Expanding our public arts program.
Q: Top four goals for your next term
Fix/complete the bridge aesthetics to create a true gateway to our town.
Successfully plan a new Arts Center for the historic part of our town and prepare for the next bond release, in the 2019 time frame.
Invest in  the renovation of Main Street to encourage economic development along the corridor that connects our town to Davidson and Huntersville.
Public access to our lake for all residents.
Q: Grade Cornelius in terms of economic development
Our entire region is falling behind in attracting new businesses.  A lot of it has to do with the current situation with our failing interstate.  Connectivity is key, not just to Charlotte, but to all of our towns in the North Meck Region.
As you know, undeveloped land is a premium in Cornelius.  I think great opportunities lie in redevelopment.  We have aging and empty big box shopping centers that will transition to new uses – new commercial development that includes retail and office space that will ultimately help our community be self-sustaining.  
I think we have untapped opportunities with NASCAR that need to be explored – we should explore synergies with the teams, owners and drivers who are located and living in our town.
In addition, the craft brewers in our town are taking off with great products, tasting rooms and opportunities to create attractions/destinations for visitors.
Q: How does economic development here play a role in relieving congestion on I-77 south to Charlotte?
I think we will experience a decrease in property values, loss of business development and a reduction in the quality of life, if we do not successfully fix our interstate.  We need to invest in upgrading the parallel transportation routes within our region that offer alternative routes to the interstate, both Highways 21 and 115.  In addition, we need to build a new Parkway for North-South connectivity between Huntersville and Mooresville as well as improve the East-West connectivity in all of our towns.
The more we can become a self-supportive community, the less we have to depend on daily commutes to other areas in the region — both north and south.
Q: What does running unopposed mean to you?
I don't have to campaign, so I can focus my energy on running our town and getting on with the goals I have stated.
I hope it reflects the approval by our residents of the job that I have done to date.
It is an honor to be the mayor of this wonderful town. I do not take it lightly.