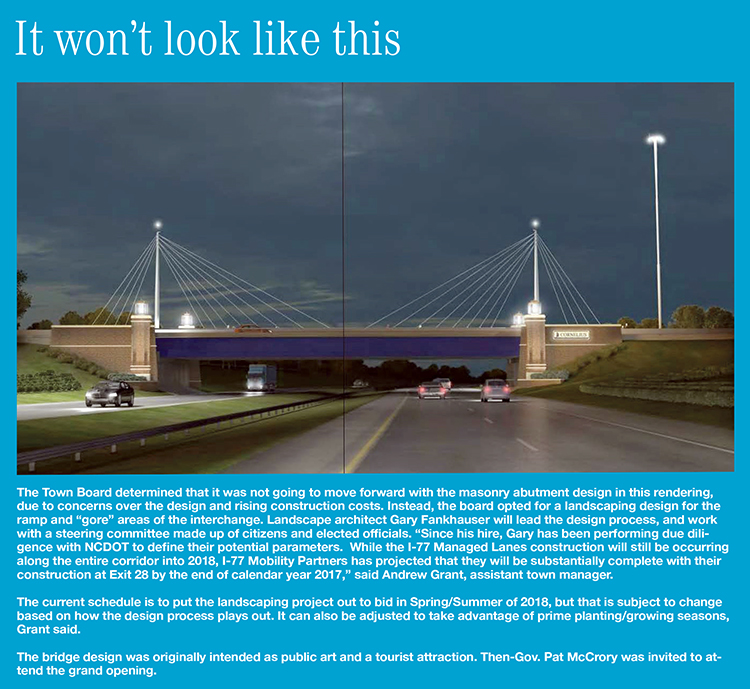 By Dave Vieser. There has been a 58​ percent​ reduction in accidents at the Exit 28 interchange in Cornelius since the Diverging Diamond Interchange (DDI) opened in 2014. ​Our stats tend to mirror those from other parts of the country where ​the innovative interchange has been implemented.​ Cornelius was the first in the state. It's since spread across the state despite an unmatched level of ridicule thanks to a Facebook site called Exit 28 Ridiculousness.
​Crashes are down by more than half, according to Assistant Town Manager Andrew Grant.​ There were​ 45 crashes in 2013, the last year with the ​s​tandard design, compared to 19 crashes in 2016.​ There was a similar decline in ​2015​.​
Town and state DOT officials attribute the better DDI safety record primarily to the reduction in the number of ​automotive conflict points when compared to a traditional interchange design. In the DDI design, motorists cross the interstate on the left, rather than the right side of the road, and then turn left to ​get on the on-ramp.
The first DDI in the country was opened in 2009 in Missouri, and as of July 1, there are now 86 across the country, including ​11​ in North C​​arolina. According to a safety study issued in January 2015 by the University of Missouri, overall accident rates had plunged 41​ percent​ at DDI int​​ersections in the state. "Our conclusion is that the DDI offers significant crash reduction benefits over conventional diamond interchanges."​
Closer to home, ​NC​ DOT​ Congestion Manager Engineer Jim Dunlop says ​North Carolina has the second highest number of DDI's in the country, including a brand new one we opened this month in Winston-Salem. Preliminary reports on the DDIs are encouraging​ throughout the state, including the ones along I-85 in the Concord area at NC 73 and Poplar Tent Road​.​
The DDI concept still has its detractors who claim the Exit 28 arrangement causes more traffic congestion and slows down the pace of traffic. DOT officials admit that DDI intersections, in general, do tend to reduce the speed of motorists and that the Cornelius DDI does not have the ideal amount of distance between the interchange and the "bookend" intersections of US 21 on the east and Torrence Chapel Road on the west.
Still, town officials point to the improved safety record as the most important factor.  "The previous Standard Diamond interchange's left-turns against oncoming traffic led to many accidents, so we're encouraged to see a consistent reduction in accidents and improvement in safety" Grant said.