May 17. The Susan M. Tillis Foundation will hold the Red White and Bundled baby shower from 6 pm to 730 pm tomorrow at Cornelius Town Hall.
Last year's shower resulted in baby items worth nearly $100,000 for soldiers at Ft. Bragg. Almost $30,000 worth of diapers was sent to MCAS Cherry Point, Camp Lejeune, Seymour Johnson Air Force Base and NC National Guard.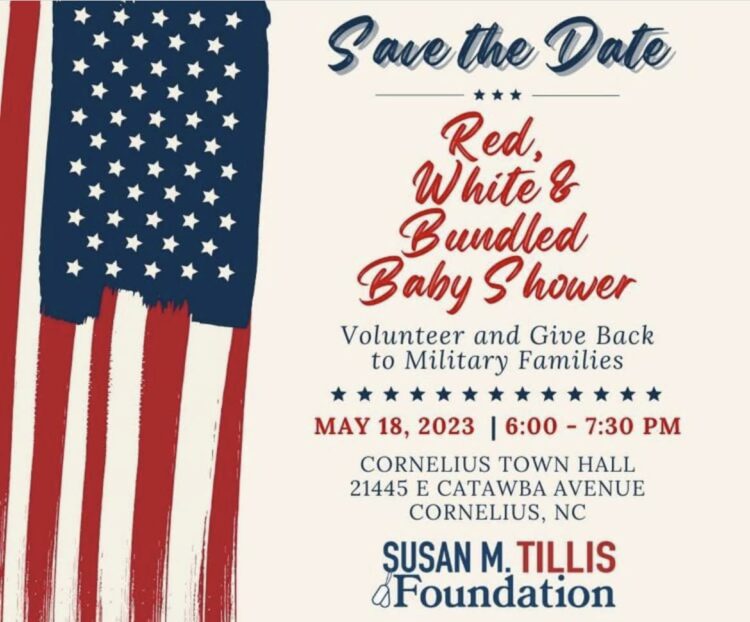 Background
The ​foundation grew out of a visit to Fort Bragg eight years ago where Tillis, who runs the Allen Tate office Davidson, saw first-hand the needs of junior enlisteds and their families. Her husband is US Sen. Thom Tillis, who began his career in politics on the Cornelius Town Board.
Over the years hundreds of people have brought baby items to Cornelius Town Hall where Tillis collects them with a team of volunteers and ships them off to military bases for distribution.
At Fort Bragg, the YMCA is the on-site program coordinator.
Tillis has taught Sunday school, volunteered with PTA and was Girl Scout leader. In 2005, she began a successful career at Allen Tate where she was nominated Rookie of the Year. She now manages the Allen Tate office in Davidson.