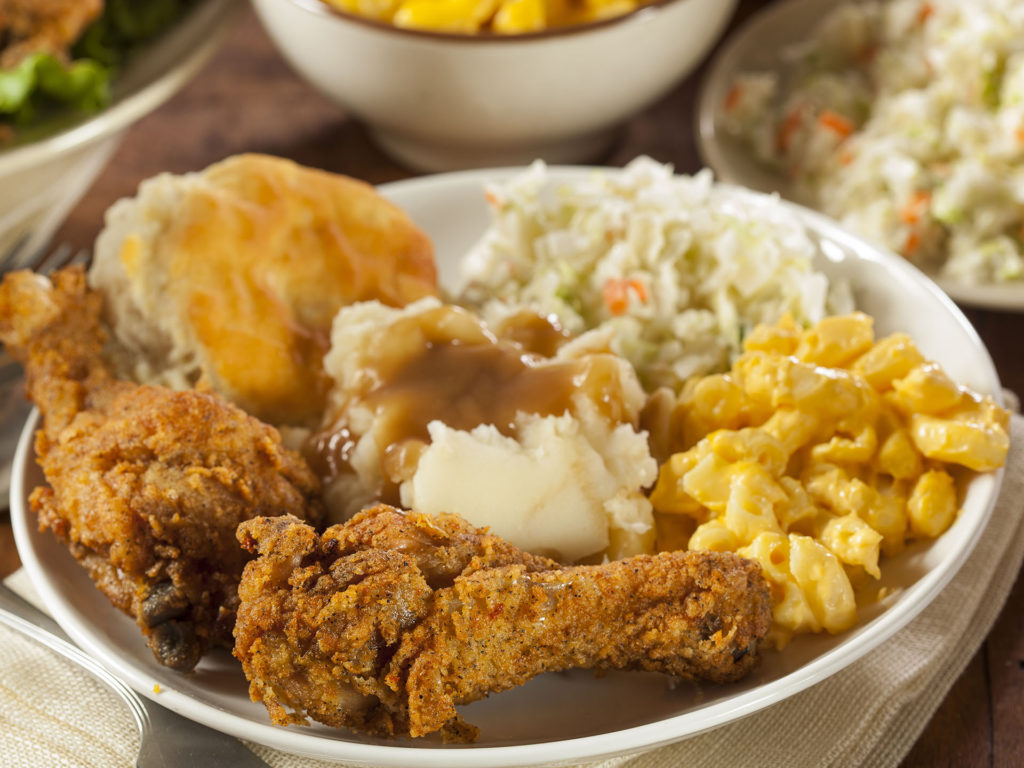 By Sarah Schlichter. What do you think of when you think of comfort food? Pasta, corn bread, casseroles, pastries, and mashed potatoes are common options. To many, comfort food is nostalgic, bringing back positive memories and experiences. It's reassuring and cozy, and easy to turn to after a tough day or when we're feeling blue. Comfort food is typically carb-heavy, hearty and easy to prepare, however, the magic of comfort food is that it varies by person.
While we all may have some comfort food recipes that have been passed down from generation to generation, we may not want to sift through cookbooks and recipe cards when the craving strikes. So, where do you go locally when you want something hearty, cheesy, or sweet, and you want it fast? Lucky for you, we've compiled a wide ranging list of delicious comfort dishes right here in your backyard.
The cooking preparation can often bring back specific memories, smells and tastes. There's something warming and nostalgic about a cast iron skillet. 131 Main serves up an oven baked cast iron skillet cornbread, made with a blend of jack and cheddar cheeses and diced chilies.
Speaking of cheese, there's nothing like a casserole filled with as much cheese, potatoes and cream as the memories that surround it. The sweet potato casserole at Choplin's is a favorite. The family recipe is full of memories, and was passed down from Chef Choplin's grandmother. While it's a comfort mainstay on the menu, the sweet potato casserole is especially popular during the holidays.
Perhaps your preference for comfort food is a cheesy bowl of carb-filled pasta. Pasta appeals to many because of its quick preparation, ease for large crowds, and versatility. Along with flatbreads and seafood, Port City Club has a variety of pasta dishes, ranging from the rich, creamy linguini with egg cream, parmesan, shrimp and peas, to the goat cheese ravioli and spaghetti and meatballs. Here, you can enjoy hearty, satisfying pasta dishes with a lake view.
Many people think of mac and cheese when they think of comfort food. While Fork's menu changes daily, one comfort staple is the lobster mac and cheese. Both simple and rich, the mascarpone cheese and lobster help upgrade your typical cheesy pasta dish. If you're in the mood for something sweet after that rich dish, the bread pudding is the most popular dessert option. The flavor changes based on the season, and right now, Chef Goody is using fresh apples for his sweet, tart apple bread pudding.
Those looking for something outside of the typical shrimp and grits or cheesy casserole may find their comfort food of choice at Alton's. Alton's has options that may appeal to the regional comfort foods, particularly aimed at those who may not have grown up on the typical shrimp and grits, mac and cheese, or grandma's biscuits. Maybe you find comfort in the New England lobster roll, or the New Orleans' inspired creole barbeque shrimp, for that subtle reminder of home.
The Cookhouse has chicken 'n dumplings, smothered with hearty chunks of chicken and soft pieces of scratch-made buttermilk biscuit dough, which they usually run out of before the end of the day. If you're a fan of corn muffins with butter, jam, or honey, get those too. They go through 1,800 of them weekly!
The next time you're craving grandma's casserole, a mouth-watering cornbread, or that indulgent pasta dish you shared with friends, remember the myriad of options right here in Cornelius. Bring some family and friends, celebrate the fond memories and create new ones. Happy Eating!
Sarah Schlichter is a Registered Dietitian. Her blog is called Bucket List Tummy
---
COMFORT SPOTS IN CORNELIUS
131 MAIN
17830 N. Statesville Rd
Cornelius
704-896-0131
www.131-main.com/
What to Order: Cast Iron Cornbread, White Cheddar Grits
ACROPOLIS
20659 Catawba Ave
Cornelius
704-894-0191
www.acropoliscg.com/
What to Order: Lasagna, Baked Ziti, Spinach Pie
ALTONS
19918 N. Cove Rd
Cornelius
704-655-2727
www.altonskitchen.com/
What to Order: Lobster Roll and Bisque, Mashed Potatoes, Parmesan Creamed Spinach
CHOPLINS
19700 One Norman Blvd, Suite C Cornelius
704-892-4800
www.sites.google.com/site/choprest/
What to Order: Sweet Potato Casserole, Broccoli Casserole, French Onion Soup, Shrimp & Grits
COOKHOUSE
20936 Torrence Chapel Rd Cornelius
704-895-2250
www.thecookhouserestaurant.com/
What To Order: Country Steak, Chicken 'n Dumplings, Scratch Baked Corn Muffins
CORK AND CASK
9624 Bailey Rd
Cornelius
704-765-5490
www.thecorkandcasknc.com/
What To Order: Mac N Cheese Bar, Grilled Cheese Sandwiches with Tomato Soup Shooters, S'mores Skillet
FORK
20517 North Main St
Cornelius
704-655-7465
www.forkdining.com/
What to Order: Apple Bread Pudding, Chicken and Waffle Sandwich, Lobster/Goat Cheese Mac n Cheese
THE HARP AND CROWN
19930 W Catawba Ave
Cornelius
704-892-8641
www.theharpandcrown.com/
What to Order: Shepards Pie, Fish and Chips, Brisket Mac n Cheese, Sticky Toffee Pudding
JACKS
8301 Magnolia Estates Dr Cornelius
704-892-4433
www.jackscornertaplkn.com/
What to Order: Chili, Baby Back Ribs, Mac and Cheese, Low Country Grits
MAC'S SPEED SHOP
19601 Liverpool Pkwy Cornelius
704-892-3554
www.macspeedshop.com/lake-norman/
Nachos, Brunswick Stew, Pork BBQ Sandwich, Cast Iron Cornbread, White Cheddar Grits
MADDY'S FATTY'S BAKERY
19905 W Catawba Ave, Suite 105
Cornelius
704-439-0996
maddysfattys.com/
What To Order: Black and White Cookies, Cinnamon Buns, Scones, NY Cheesecake Pastry
MAMA'S PIZZA EXPRESS
19741 S. Old Main St Cornelius
704-892-3305
www.mamaspizzaexpress.com/
What To Order: Chicken Parm, Pizza, Stromboli, Cannoli's
MATT'S CHICAGO DOG
119732 One Norman Blvd, Suite 330
Cornelius
704-892-5005
www.mattschicagodog.com/
What To Order: Chili Cheese Fries, Chicago Pizza Puff
PORT CITY CLUB
18665 Harborside Dr Cornelius
Cornelius
704-765-1565
www.portcityclub.com/
What to Order: Po Boy, Ravioli, Creamy Linguine, Pasta Carbonara
PROSCIUTTO'S
20920 Torrence Chapel Rd
704-439-4444
www.prosciuttos.com
What to Order: Cheese Fries with Bacon, Fried Zucchini, Calzones, Pasta Alfredo