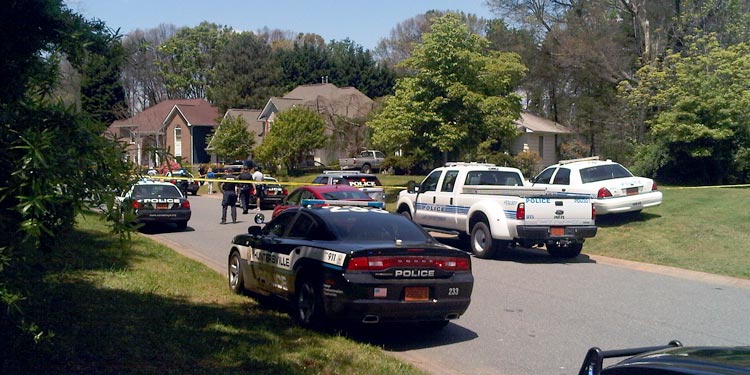 May 3. UPDATE Lt. James Quattlebaum is 'doing well' after a shooting on Coachman's Trace that left both him and the suspect with gunshot wounds.
The 16-year-old suspect was wearing a bullet proof vest and was not seriously injured. He is in custody and charges are pending. Quattlebaum was taken to CMC Main with a gunshot wound to the abdomen.
The white juvenile was troubled and expressed considerable anger toward the police after recent incidents nationwide involving African Americans.
His most recent post on Facebook said this: "We the people need to unarm the police! Id rather hear every day about an unarmed cop getting shot by a criminal then armed cops killing innocent people."
A neighbor told Cornelius Today shots were first heard just before noon Saturday. Police from Huntersville and Davidson also responded to the scene, which is just off Washam Potts Road. Another officer on the scene returned fire, hitting the suspect at least once, a police spokesperson said.
Because the suspect was also shot by Cornelius officers, Cornelius Police have asked the Charlotte-Mecklenburg Police to take over the investigation.
Police Chief Bence Hoyle was on the scene. It occurred at a two-story home valued between $250,000 and $260,000 according to Mecklenburg County tax records.
Cornelius Police officially thanked Huntersville Police, Davidson Police, Charlotte Mecklenburg Police, MEDIC and Charlotte Fire Communications "for their rapid assistance with this situation. We would also like to thank our community for the prayers and support that we have received for Lt. Quattlebaum and the Cornelius Police Department staff."
Cornelius Today is not publishing the name of the juvenile or the parents.