May 7. By Dave Vieser. It appears that local elections will take place this fall as scheduled. The late arrival of US Census data initially threatened to delay the elections, but it now appears that voters will go to the polls on Nov. 2, under the usual schedule.
The reason: There are no districts in Cornelius; likewise, none in Davidson and Huntersville.
"My understanding is that the state General Assembly is not interested in weighing in on the timing of local elections," said NC Sen. Natasha Marcus. "especially not those like Cornelius, which do not rely on districts and are not impacted by the delayed census data."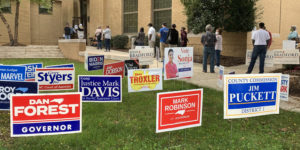 The delayed data would only impact elections, such as for the CMS School Board, where some districts are determined by census population data. At-large seats would not be impacted.
All of the Cornelius Town Board posts are up for election this year, including Mayor Woody Washam. Thus far, the only resident who has indicated he plans to challenge the incumbents is former commissioner Dave Gilroy. Those wishing to run must officially declare their intentions with the County Board of Elections in July.