June 29. Mooresville and Cornelius Police say they are ready for a pro-Trump boat parade July 4 that is expected to assemble at 11 am near the Trump National Golf Course in Iredell County, and from there will head south towards Cowans Ford Dam starting at 1 pm. "Lake Patrol will be assisting North Carolina wildlife with the escort of this parade." said Kevin Black, Cornelius Chief of Police.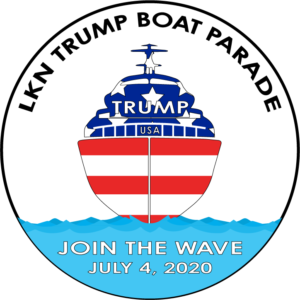 The event has more than 600 people registered online, however organizers on Facebook claim there will be 17,000 attendees on boats, personal watercraft and motorcycles.
In addition, the "all-American patriotic fun," will extend on-land, with an all-day bash including live music, food and beverages, and family fun events at Queen's Landing, from 11 am to 11 pm. Social-distancing measures, state health compliance, and CDC protocols are not outlined or anticipated by organizers. The Facebook event page is here.