May 21. Lauren Thomas learned to sew when she was just 8 years old.  After the "shelter-in-place" order closed her school doors recently, she began making masks for family and friends.
Family members say the word got out quickly and to date the 14-year-old has made more than 75 of them. There's a steady list of requests coming in.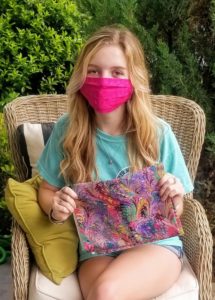 "I had no idea that I had a unique skill that could help so many people stay healthy," says Lauren, who attends Pine Lake Preparatory.
Her school's mission is to "Prepare Students for College and a Purposeful Life." By attending school online and sewing masks to help protect her community, she says she is upholding these values.
Lauren lives in Antiquity with mom and dad, Sara and Mark, and sister, Caroline.