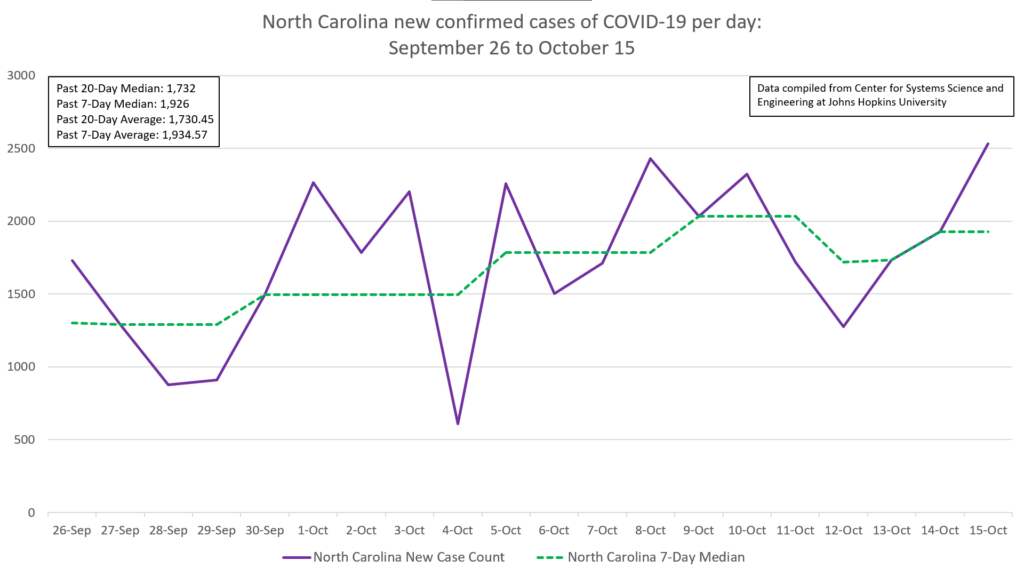 Oct. 16. The NC Dept. of Health and Human Services today reported 2,684 new cases statewide of COVID-19, up from 2,532 new cases Thursday. The trend over the longer term is disappointing as well: There is an 11.2 percent increase in the median number of new cases over the past week compared to the median over the past 20 days.
Today's increase of 2,684 new cases is the largest increase since NCDHHS began tracking the pandemic in March. The NCDHHS also reported the second-highest number of hospitalizations in the past 30 days.
(On Sept. 25, the NCDHHS changed its COVID-19 new case reporting methodology. Cornelius Today has opted to make calculate comparisons from Sept. 26 to now. Click here to view NCDHHS data.)
Positive test rate
Tests, meanwhile, are coming back positive at the rate of 6.3 percent statewide, down from 6.5 percent yesterday. It surpassed 7 percent Tuesday, so this metric is going in the right direction. The goal, however, is less than 5 percent.
Deaths
There were 36 new deaths statewide due to COVID-19—up from 18 Thursday. A total of 3,910 North Carolinians have died because of the COVID-19 pandemic.
Hospitalizations
Hospitalizations rose by eight patients to 1,148 statewide, according to today's NCDHHS report.
Mecklenburg
Mecklenburg County's positive tests are coming back at the rate of 4.7 percent. The rate has climbed slightly since Tuesday, when it was at 4.3 percent.
There were 205 new cases reported in Mecklenburg, down from 256 new cases yesterday. The county-wide total is now 31,279.
There was one new death in today's report, for a total of 374 county-wide.
North Mecklenburg
Cornelius: 5 new cases, 621 total; 16 deaths total.
Davidson: 1 new case, 330 cases total; 6 deaths total.
Huntersville: 8 new cases, 1,141 total; 14 deaths total.