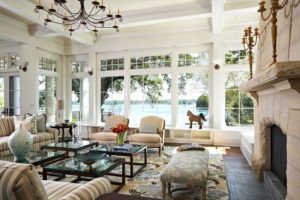 What is the definition of a lake house? There might be a more casual feel, perhaps a country influence, an emphasis on windows—with simple treatments emphasizing the outdoors—and an openness that comes easier with a spare, less-is-more approach.
"The feel is more like white-washed and neutral, maybe gray, with accents that might have a texture," says Allen Sutton, owner of Southern Decadence Design, based in Lake Norman.
He likes Silver Strand from Sherwin Williams on the walls because it "accentuates the lake tones. You can pair yellow, green and even purple with it."
No need for absolutely matching everything either. An eclectic approach is suitable, with an antique chest here and a contemporary couch there. "There is even some mid-century modern and contemporary that we blend in," he says. Of course, it depends on the type of home and style of the house, but rest assured you don't have to be lakefront to capture a casual lake feel.
Think tripod floor lamps, reclaimed wood, maybe an oar, but don't go all-out cliche with too many signs that say "LAKEHOUSE."
Whether it's a sunroom or the main living area, neutral and pale background colors, with accents in darker blues and blue-greens—and even some yellows—the more contemporary lake feel is achievable.
White shiplap on the walls, an old oar and a rope accent can set the tone. "You can get the lake look without using cliche lake products. You don't need a pillow that says "lake home" to have a lake feel. On the flip side, a single pillow will not create a look on its own.
Go softer on the fabric, with softer tones, as well. "Play with a lot of base neutrals, and pops of colors here and there," Sutton says.
Flooring-wise, the darker shades are going to be more timeless, although grays are an excellent and fashion-forward choice for a casual look. Prints of fish—vintage or contemporary—can be beautiful and relaxing, and bring home the point.
"I warn clients to stay away from trendy around permanent things…lets go more traditional with floors, and go trendier around things you might switch out more often," Sutton says.