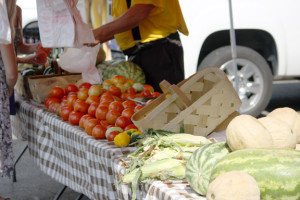 Feb. 3. The Peninsula Farmer's Market, which was held on Thursday afternoons during warm weather last year and the year before, will not return this spring. The Peninsula Property Owners Social Committee and the Peninsula Yacht Club "felt it wasn't what the community was able to consistently support."
In 2016 it opened with 26 vendors recruited from markets in Charlotte, Hickory, Concord, Davidson, Huntersville and Matthews, but it dwindled to six vendors by the close of the season. At its height, the Peninsula market featured items like kettle corn, salad dressing, empanadas, pies, cookie dough, nuts and bread, peanut butter, as well as vegetables.
It turns out every farmers market is different. While the Davidson Farmers Market may feature a greater variety of fresh vegetables, the Peninsula market was strong on craft and artisan foods. Vendors at one time included Oma's Gourmet Kettle Corn, Anna's Sweets, Rocking Bee Farms, Nora B's salad dressing and cookie dough and Waterbean Coffee.
Abby Wyatt, the Cornelius resident who is the manager of the Davidson Farmer's Market, engages the community. "For us success is keeping the community engaged with the market, involved with activities, and informed about the food and vendors. We also have a great Board of Directors that is active and works closely with the manager and vendors," she explains.
The Davidson Farmer's Market officially opens the 2017 season April 1.