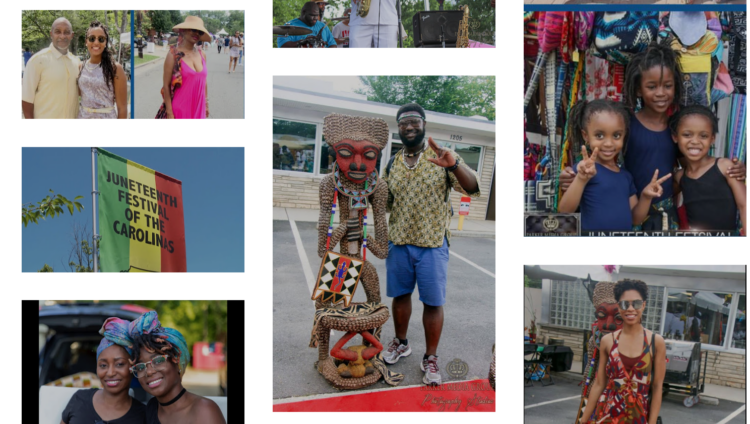 June 6. The Juneteenth Festival of the Carolinas will be held June 16-19 in Plaza Midwood, where the festival began at Thomas and Commonwealth avenues. Multi-cultural vendors will showcase food, art, music and culturally relevant specialty items.
Here's how the event is shaping up:
—On Thursday, June 16th from 9 am to 4 pm, children from all over can participate in the popular Cultural Camp at Elizabeth Traditional Elementary School. Children and youth, ages 5-17, will again engage in a true cultural experience including making crafts, jewelry, tie dyeing, performing skits and much more. Bring a t-shirt for the tie-dye class.
—On Friday, June 17th, the Opening Ceremony with the Drum Circle. The Drum Circle attracts drummers and dance enthusiasts of all ethnicities. Friday will also be Opening Day for all festivities. (5 pm until 10 pm)
—On Saturday, June 18th (noon until 10 pm) and Sunday, June 19th (11 am until 9 pm): Juneteenth Freedom & Unity March, Prayer, History and Education are an integral part of the festival.
—The Juneteenth Freedom & Unity March, created to encourage peace and unity, will start on Saturday at 10 am from Grady Cole Center, 310 N Kings Drive and finish at the House of Africa, 1215 Thomas Ave., where the festival began 25 years ago.
—Tribute to Isaac Applewhite, 1 pm, co-founder of the Juneteenth Festival of the Carolinas.
There will also be a Healthcare Village staffed with health-care professionals, nutritionists and fitness experts. In addition, there will be various healthcare screenings, wellness sessions and exercise workshops at no charge.
The Children's Village is a special area filled with entertaining and educational crafts, as well as a storyteller, performing stage and other interactive activities designed just for kids. Lunch and snacks provided.
The Entertainment Stage spotlights African drumming, dance, and all genres of music including Reggae, R&B, Jazz and Gospel. International Fashion Designer Khadim Soung, from Senegal, will also present a fashion show featuring his original fashion designs from Belle Allure Couture on Saturday evening.
There will be a Church service with the Park Ministries at 11 am on Sunday and a Gospelfest.
More info: Pape S. Ndiaye at 704-376-6160 or 704-953-3990 or email: juneteenthfestnc@gmail.com or papsafrica@aol.com
Website: juneteenthofthecarolinas.com