May 2. The Town of Davidson's annual Town Day celebration will be held on Saturday, May 7 on the town green.
Residents are encouraged to walk or ride their bikes to the green because  May is National Bike Month. There will be a "bike corral" near the Town of Davidson booth, and the town will have police officers stationed at key intersections to ensure safety.
The celebration is 10 am to 3 pm.
Town Day was originally started as a day of service followed by a town picture. Attendees can bring a donation of non-perishable food or canned goods when they come to Town Day and place them in the collection baskets located at the Town of Davidson's booth. Donations will be delivered to the food pantry at the Ada Jenkins Center.
The town picture will take place at 10 am. Those who want to participate are asked to meet on the patio in front of the library.
In addition to the food drive and town picture, activities on the town green include:
* dance, music, magic and acrobatic performances
* face painting
* a gaga pit
* the monkey bridge
* assorted food trucks
* booths featuring Davidson organizations
At the Town of Davidson booth, specifically, visitors can: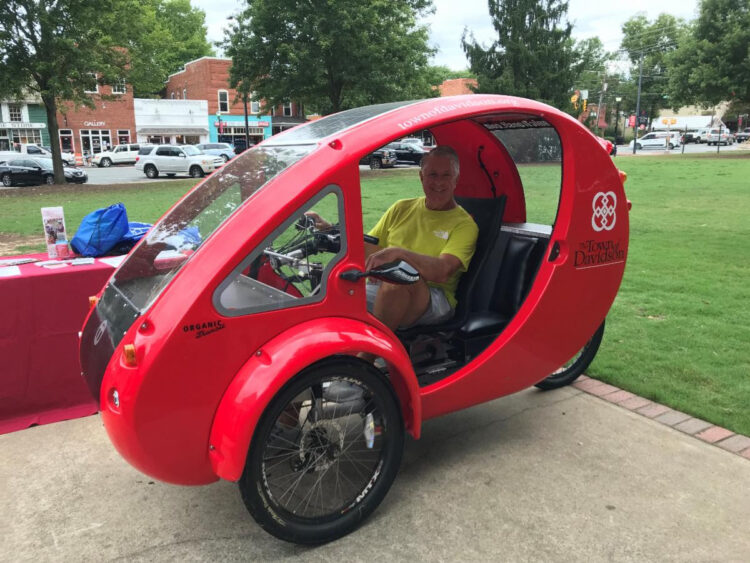 * see the E.L.F. vehicle (the parks and recreation solar/electric bike)
* learn about Vision Zero, the town's pedestrian and bicyclist safety campaign
* get information on the programs and summer camps offered by the parks and recreation department.
Other events include a Davidson Fire Department traditional "push-in" ceremony for its new fire truck, and ReadDavidson's culminating Infinite Country event, the opportunity to support Davidson College's Davidson Refugee Services and Refugee Support Services in Charlotte.
"The focus on community and caring for our community is where the roots of Town Day started," said Mayor Rusty Knox. "We should all remember that we are not only neighbors and residents, but stewards of this town that is so special to all of us."