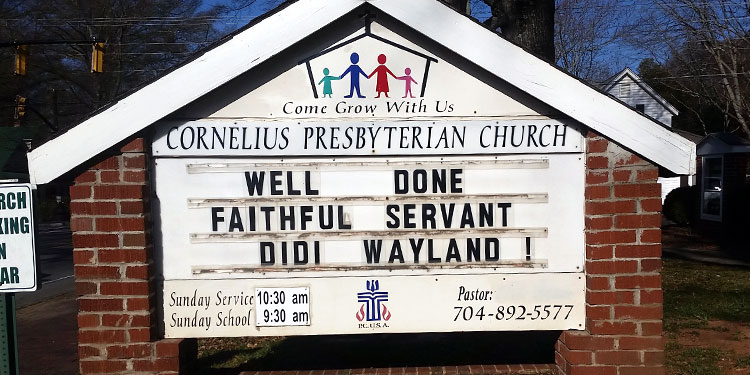 A friend, mentor and minister to literally thousands of Cornelius residents young and old, Rev. John Edwin Wayland, Jr.,  has passed away at the age of 91. Services are at 11 am today at Bethel Presbyterian Church. He pastored at both Bethel and Cornelius Presbyterian near downtown Cornelius for more than 40 years.
Wayland, who died on Saturday, was born July 27, 1924 in Kuling, China, where his parents served as missionaries of the Presbyterian Church.
"Didi" means little brother in the dialect of Chinese spoken there.
He graduated from Davidson College and Columbia Theological Seminary. Upon graduation, he was ordained in the Bethel and Cornelius Presbyterian Churches in 1952 where he served until his retirement in 1995 (46 years).  After retirement, he served as Associate Pastor for Visitation at Hopewell Presbyterian Church.
RELATED: National treasures in our own backyard
During World War II, Didi went into Normandy on D-Day and landed on Utah Beach as a Medical Corpsman.  Later he served in the N.C. National Guard as a Chaplain retiring from the Guard with the rank of Captain. Didi served as a Town Commissioner for the Town Of Cornelius and also served as Mayor Pro-tem. He was on the Board of the Lake Norman YMCA and was also an active member of the North Mecklenburg Rotary Club where he was a Paul Harris Fellow, a Sustaining Member and an Honorary Member.
The Rotary Club said: "His impact on our club and our community was and will continue to be felt by all."
Didi was preceded in death by his wife of 62 years, Jane Puckett Wayland; his parents, John Edwin Wayland Sr. and Rosa Lee Clark Wayland; and his sister, Cora Antrim Wayland.  He is survived by his sister, Lucille Wayland Harkey and husband, Martin L. Harkey and families; his children, John Edwin Wayland III (Ann Graves Wayland); Jane Lee Wayland Ayers (Jack Ayers); Timothy Mark Wayland (Carole Hughes).  Grandchildren; John Tyler Wayland (Kendall Wayland); Alysa Jean Wayland (fiancé, Tyler Brandt); Corie Lee Humble, John David Humble, John Ayers (Natalie Ayers), James Ayers (wife, Martine Ayers); great-grandchildren; Henry Wayland Ayers, Adaline Kentley Ayers, Wellesley Jane Wayland.
A Celebration of Life Service will be held at Bethel Presbyterian Church at 11 am Tuesday, March 8, in the sanctuary. The family will receive friends following the service in the Family Life Center. Burial will be private at Bethel Presbyterian Church Cemetery.
In lieu of flowers, memorials may be made to Bethel Presbyterian Church Cemetery Fund, Cornelius Presbyterian Church, or Hopewell Presbyterian Church in Huntersville.
James Funeral Home of Huntersville is serving the family. www.jamesfuneralhomeLKN.com
Wayland Christian Disciple Center
Didi Wayland attended the 2015 Veterans Day celebration at Town Hall