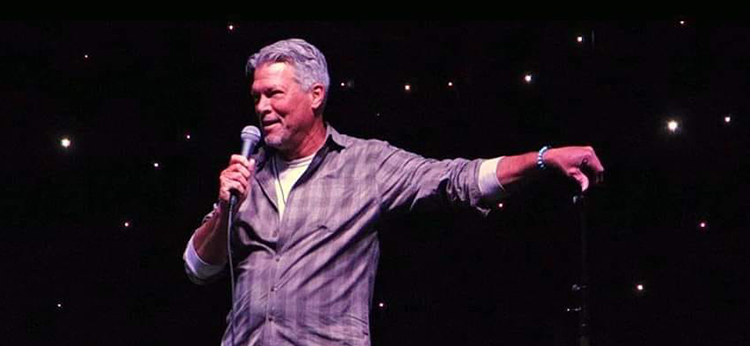 May 15. By Dave Yochum. Jeff Arbaugh is suddenly "the big 5-8," divorced, dating and still trying to figure things out. When many guys his age embrace peers who look just like them and agree with them, Arbaugh is baring his soul in front of live audiences.
"I'm pushing 60 and it's pushing back," he says.
Arbaugh is successful businessman—he runs a company that makes trade show exhibits and branded  environments—who is going through the kind of angsty things Dustin Hoffman went through in "The Graduate," except he's older than Mrs. Robinson was.
He has a story around that, more wry observation than haha funny:
He goes on a dinner date, they come back to her house after and catch a romantic moment in the kitchen.
"I realized I was getting old when we went out to dinner and had a great time, great conversation, a few drinks, went back to her house, went in the kitchen, we were making out a little bit."
Pause.
"I'm thinking I still got it."
Pause.
"And then these two little kids come running in and they're like 'Nana! Nana!'"
Insert a warm smile, another pause and the audience, many of whom have grandkids, belongs to Arbaugh.
He is attracting crowds at places like Boatyard Eats on Wednesday nights and the Comedy Zone in Cornelius.
They're a little older, not necessarily Millennials, but that big demographic between 35 and 65. They get it.
This Cornelius Today reporter had a tough assignment on a sunny afternoon in April: Interviewing Arbaugh on the back deck of his 32-foot Sea Ray at the Peninsula Yacht Club.
Arbaugh said he is still in the midst of a lifelong struggle, but "life is short let's get on with it." Single and keeping a weather eye out for the right one, he attends Elevation Church…and also has a psychic advisor in Texas.
"My path is to help inspire and maybe enlighten people," Arbaugh says.
"The definition of comedy is tragedy plus time."
Comedy that comes from a place of pain finds a home with everyone. Divorce is a standard in this day and age, but enormously painful.
Arbaugh has been there and done that.
He lost everything after a tough divorce and escaped to Atlanta. "People thought I went down to be with a girlfriend. I left because I was humiliated and didn't know what to do."
Divorced 11 years now, he says comedic bits come from observations he texts to himself. He builds a story on his phone, and sooner or later there's a punchline. Careful timing, pauses and looks make it all work perfectly on stage.
At least in theory.
There are jokes that have left people perplexed or silent. Overtly sexual is not his voice, so to speak and the audience that bonds with him knows that.
Arbaugh says silence after a joke or story is a gift to a performer. He keeps notes, and edits his delivery. "To get better you need stage time," he says.
His persona as a performer—he's still trying to figure that out.
"I'm a nice guy trying to make my way in the world," he says.
Audiences sense what's authentic, what's not, and reward an observation about life's universally awkward moments with laughter.
Arbaugh has performed about a dozen times locally but this is not his first time on stage—or in front of a camera.
He grew up in Pennsylvania and Delaware. Right after high school he drove to Hollywood, getting in with an older crowd that valued youth and swagger.
Before long he knew people like Andrew Dice Clay and Whoopi Goldberg, who "was the sweetest person."
He was Liza Minelli's date at the Academy Awards when she was hosting.
He drove Ava Gardner to Century City to return some shoes. "I didn't know much about her, I was just this goober from Delaware," he says.
Robin Williams was admittedly brilliant, but one of his gifts was making it look like the was coming up with everything on the spot. "Robin was just accessing his Rolodex,"  Arbaugh said, explaining that he has worked hard to build up to 20 or 30 minutes worth of stand-up-worthy material.
In Los Angeles he had steady gigs on TV shows like "General Hospital" and "The Bold and the Beautiful."
Mixed in were appearances on "The Larry Sanders Show,"  "The Tracey Ullman Show" and, well, a clothing store.
You gotta make ends meet.
He did live theater as well in Los Angeles, winning the Drama-Logue Theatre Critics Award seven times. Tim Conway and the late Harvey Korman were friends. "I'm a huge Carol Burnett fan," he says.
All three are known for their relationships with audiences. It's hard work, no matter how easy they make it look.
Back in L.A., Arbaugh wrote bits on an old manual typewriter.
He could barely afford new ribbon.
Pause.
"I had to type hard…so I type really hard today," he says, making over-size motions on an imaginary laptop.
—MAIN PHOTO BY GRANT CUTRI