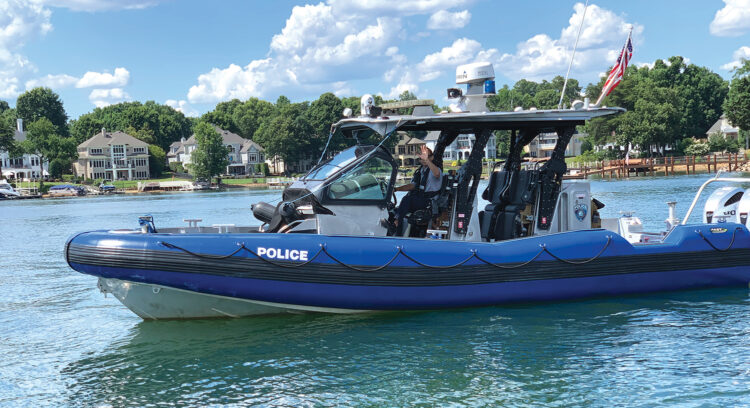 Jan. 11. By TL Bernthal. Lake lovers and leaders are charting a course to a different — and safer —boating season on Lake Norman in 2023.
About 120 participants from 80 organizations came together recently to help change the culture around Lake Norman recreational safety.
Mike Hauser, executive director of the non-profit Calvin Newman Youth Boating Education Fund, called that a  great way to kick off community-wide movement.
The goal is to reduce drownings, accidents, emergencies on the lake and have fun safely.
Most boaters, sailors and jet-skiers don't create havoc by speeding, cutting across a boat's course, or otherwise being reckless.
But even one person making bad decisions on the lake can turn a fun day upside down or even dangerous.
Cornelius Police Officer George Brinzey, assigned to the Lake Patrol, says police, first-responders, Lake Norman Marine Commission, marinas, boat clubs, charter groups, boaters and other related groups all understand the problems and try to do what they can in their niche.
"We understand the problems and we need to come together so everybody has fun and everyone comes home safe," Brinzey says.
Sgt. Matthew Figaro, who heads the Cornelius Police Lake Patrol unit, can recall more drownings on the lake than he wants to.
Time for change
"We want the next boating season to be different," Figaro says.
The police hold community dockside events, mutual aid training, kids camps, cold water man-overboard drills and mass casualty training,  Figaro says.
"We're all trying to do our part," Figaro says. "We're all pushing really hard."
Teaching children about water and boating safety is critical so those young people can teach their peers.
"If we can make a difference with one child, we've made a dent," Figaro says.
The number of drownings
"Unfortunately, there isn't anyone with the state, or a local organization that keeps up with LKN drownings year to year," Brinzey says.  "That, of course, is going to change next year as we plan on putting together some simple software that can help all the emergency responders keep better numbers."
"Unfortunately, we respond to so many drownings, they all seem to mix together," he says.
Brinzey called four county police responders to get 2022 drowning data from Mecklenburg, which had three;  Iredell with four; Lincoln and Catawba with one each.
"Almost every single drowning occurrence could have been prevented if the victim were to have adequate flotation, as simple as a pool noodle from the Dollar Store," he says. "I think the lack of situational awareness has a lot to do with most of these drownings, along with the lack of rental boat safety and awareness protocol.
"It's very easy to not think about a friend or loved one who won't come back to the dock from a fun day on the lake," Brinzey says. "The truth of the matter is, with recreation, comes great responsibility."
It takes a village
Hauser, along with the other speakers, stressed the need to work as one.
"The ability for us to come together as a community with a simple message and single source of truth is what will help us change the culture and meet the goal which is for everyone to be safe, responsible, and ensuring your family, friends, and fellow lake enthusiasts have a great experience at the lake," Hauser says. "The resources are there and we will get you access to them.
"For many years we all have been working tirelessly to educate and make an impact on LKN. Something needs to change because we keep on seeing the same headlines every year."
It is time to come together and make our voices louder than ever before, he says.  "If we connect with that one person who makes a different decision based upon our interaction and that was the difference between them coming back to the dock or not, we have accomplished something monumental.
"Going alone has helped us achieve small wins, but going together we will change the future," Hauser says.
Love Where You Lake
David Scott, the Lake Norman Marine Commission chairman, says the Love Where You Lake campaign has been three or four years in the making.
The COVID pandemic pushed up the number of boat rentals and people looking for a safe spot onto the lake, making educating boaters even more of a priority, Scott says.
All the safety and other information is in place, but it needs to get out to the boaters, he says.
"We can't police everyone, so let's get them educated," Scott says.
One initiative being pursued is to get the former kitchen building at lakefront Blythe Landing, on permanent loan to the Cornelius Police Department Lake Patrol to become a central location for brochures, pamphlets, etc. and have it staffed by volunteers who can answer questions or help find answers.
What goes wrong
Sometimes boaters come from other areas and may not know any boating rules, let alone laws particular to Lake Norman. The rule that 150 feet from any shoreline or property is a no wake zone is one of those rules, says Steven Riggan, US Coast Guard Auxiliary.
The auxiliary will do free boat safety checks and issue a pass or fail grade, with advice for those lacking something. The most common thing found is a fire extinguisher that has expired, Riggan says, followed by no or not enough life jackets.
Riggan says he tells boaters to take the new personal flotation devices out of the plastic wrapping. "Trying to get it out of the packaging will only slow you down in an emergency," he says.
That children under 13 wear a  personal flotation device is law but it's commonsense that everyone should wear one.
The law does not require a water-skier, wake boarder or someone riding a tube to wear a PDF, but it makes sense that they do. The towing boat should have mirrors or a lookout to spot the people in the water.
A sea of voices might convince elected leaders to enact a law that requires those being towed to wear a PDF, but it will need to be a groundswell from the community for that to have a chance, Riggan said.
Just like on land, alcohol or drug use can lead to bad decisions. It's against the law to operate a vessel on the lake while impaired, just like in your car on the road.
Call to action
Here are three opportunities to consider, from Hauser of the Calvin Newman fund:
• Education material dissemination: Connect with those who you engage with daily basis and drive people to Love Where you Lake. The ability for us to come together as a community with a simple message and single source of truth is what will help us change the culture and meet our goal.
• Volunteer your time at public events: Volunteer whatever time you are able to at public access points and community events in effort to reach as broad of a community as possible.
• Help build a centralized Love Where You Lake Hub: Work on a long-term goal of having a Love Where You Lake center dedicated to serve as the single hub for the community to use for safety and education. Sign up here
Action: Float it Forward
Float it Forward is a campaign to bring awareness to dockside safety. The idea is to put a lifesaver ring buoy on every dock. Life rings can be purchased and information about the mission can be found here. As of Jan. 11, 147 life rings have been sold.
Cade Redmond, a teenager whose family lives on a lakefront property in Cornelius, saw a father of two drown 10 feet off a neighbor's dock on Oct. 5, started this effort.
Another of the onlookers, who jumped into the lake to help the drowning man, said if he had had soothing to throw to the man, it might have saved him.
Cade hopes to expand the concept of a life ring on every dock beyond Lake Norman.