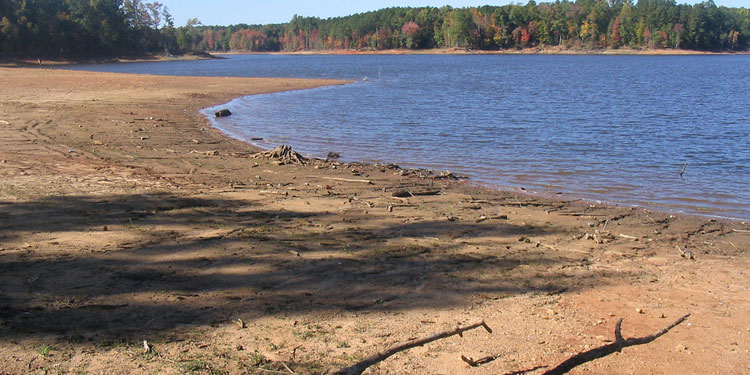 July 20. The Catawba-Wateree Drought Management Advisory Group says our region is officially in the midst of a drought. We're in Stage 1, the second of five drought stages which means voluntary water conservation by water users, in addition to operational adjustments by Duke Energy.
Irrigate on Tuesdays and Saturdays between 6 pm—6am.
Limit landscape watering of no more than one inch of water per week, this includes rain
Conserve all water use indoors and outdoors
Please refrain from outdoor water use during the day (6am to 6pm) to reduce evaporation losses
Please refrain from filling pools
Only top off swimming pools on Thursday and Sundays, between 6pm – 6am
Discontinue operation of fountains and other ornamental water features that do not sustain aquatic animal life
Do not wash vehicles at home, please use commercial car wash locations that recycle water instead
Refrain from residential power washing
Commercial Customer Voluntary Restrictions
Businesses should educate employees and customers about water conservation practices
Charity groups should consider alternatives to car washes for fundraising activities
Property managers should repair known water leaks and increase plumbing inspection frequency
Fleet managers should reduce car washing frequency
Duke Energy starts reducing water releases from the dams at Stage 0 and continues with Lake Level adjustments and additional release modifications when the region meets the thresholds for Stage 1 or higher.
Earlier this month, the Catawba-Wateree River Basin entered Stage 0, a drought watch stage. After observing declining trends in the triggers, the group decided to proactively declare Stage 1 conditions. Data collected to make drought stage decisions includes the US Drought Monitor, measurements from a network of watershed streamflow gauges and lake levels.
The last time Charlotte Water declared Drought Stage 1 conservation efforts was in 2011. During the Drought of Record ('08-'09), prolonged hot and dry conditions through 2008 and into 2009 moved the region from Drought Stage 1 through Stages 2 and 3. Mandatory water use restrictions are called for when the utility reaches Drought Stage 2 or higher.