By Dave Vieser. The retail development at Antiquity, just east of Highway 115, continues to attract more new tenants to fill the 28,000 square feet set aside for smaller retailers. The development has nine retailers, and more coming. This is all in addition to the new anchor store, a 53,000 square foot Harris Teeter.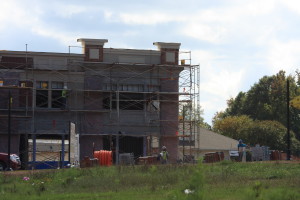 "So far we have seven signed tenants at Antiquity and two who have committed but who have not officially signed leases," said Peyton Gehron, broker with New South Properties of the Carolinas which is marketing the properties. He said there are "numerous" other retail concepts that have not gotten to the lease stage yet.Those signed up include Dunkin Donuts, Truliant Federal Credit Union, Great Clips, Magnolia Nails, Zen Massage, Pita Pit, and Rogers Dry Cleaners, formerly New Method. In addition, a dentist and an Asian restaurant are about to sign leases.
Gehron says leasing rates for the retail section are running $28-$30 per square foot, plus   expenses and taxes associated with the property.
For Cornelius residents who live east of I-77, the retail development is welcome news."The east side of Cornelius has been under the radar for some time," said Lisa Mayhew-Jones of the Smithville Community Coalition. "While Cornelius, on the whole, is prospering, some parts of east Cornelius still struggle with high unemployment and low household income. With these businesses coming to the east side, this will definitely help with some of those issues."
Based upon previous new store openings, the Harris Teeter in itself should generate well over 100 new jobs. Mayhew-Jones is hopeful that Cornelius residents will get first dibs on any new jobs created.
The shopping center will be easily accessible by making a right turn from the eastward extension of Catawba Avenue just past the railroad tracks. Harris Teeter will be a free standing supermarket, the front facing north towards a new parking area. The smaller retail stores will ring the parking lot on the west and north side. Additional buildings on the north and east side of the parking area will be designed for restaurants.
Antiquity developers are optimistic about the center's success due to its location and growth potential. At full build-out, Antiquity will be home to nearly 1,000 households, all in addition to the residents already living on the east side of Cornelius, as well as potential shoppers from Davidson about a mile away.