Oct. 10. By Dave Yochum. The state of the craft beer business in Cornelius is very good, with more breweries on the way, as well as more family-friendly events in store as these entrepreneurially driven enterprises work to become community centers, just like their older European counterparts.
They're benefitting from the notion that beer is like bread, the fresher the better. Shipping product long distances is not what makes these job-generators thrive.
Lost Worlds hosts massive seasonal markets, weekly yoga, trivia and cycling meet-ups and music as a way to bring people together and build a brand. Other breweries do the same.
Good for economy
Craft breweries have a big economic impact, particularly in North Carolina. There are more than twice as many breweries per capita here as there are in Florida, Georgia, Mississippi, Nevada and New Jersey.
The big picture: The craft beer industry grew by 8 percent in 2021, while the overall market moved up 1 percent.
In North Carolina, the economic impact was in excess of $2.25 billion last year.
In for long haul
Craft brewers are resilient, having made it through the pandemic—it wasn't easy in light of shutdowns—and a challenging economy with supply chain issues, price hikes and even nascent questions about carbon dioxide shortages.
Competition
Not to mention an increase in competition.
John Marrino, the founder of Olde Mecklenburg Brewery in Charlotte, said no one foresaw the "explosion" of breweries all around the country. It's made craft beer a hyper-local phenomenon, to such an extent that he hopes to bring an OMB biergarten sometime in the next couple of years to a site just north of Antiquity.
The entrepreneur said he was the first to open a craft beer business in Charlotte—there are more than five dozen now. He plans to open biergartens in Ballantyne and Mt. Holly sooner rather than later.
When it happens, the Cornelius biergarten could employ 150 people. The main base in Charlotte would service all four biergartens with truck deliveries to the other three.
New brewery coming
Brothers Douglas and Travis Marion and their wives Shannon and Chelsea, respectively, will soon close on three lots near the Food Lion on North Main. They are planning a 5,000-square foot taproom and brewery with a small kitchen and shaded patio.
The name: Fruitful Roots Brewing.
Groundbreaking will be in the first part of 2023 with the grand opening in the first quarter 2024.
"We believe LKN craft beer drinkers will appreciate the vision we have for creating an experience through which community thrives, rooted in trusted connections and shared adventures," says Douglas Marion, who owns a financial advisory company in Cornelius.
What's on tap | Breweries around Lake Norman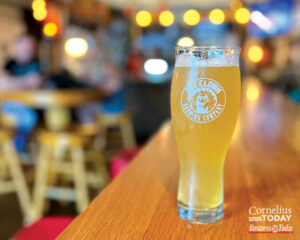 10620 Bailey Road E, Cornelius. 704.997.8490
Founded by brewing enthusiast Matt Glidden in 2011, Ass Clown is one of the oldest breweries in the region.
The 31 tap system wields the largest selection of beers around but make no mistake, they still value quality before quantity.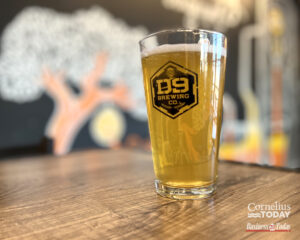 11138-C Treynorth Dr., Cornelius. 704.457.9368
The original mission of founders Andrew Durstewitz and John Ashcraft was to "inspire and support community through the creation of exciting and original crafted ales."
D9 has made quite a name for themselves due in part to their innovative sour selection.
10228 Bailey Rd. Suite 201, Cornelius. 704.998.9017
Named for the 11 major lakes along the Catawba River Eleven Lakes' success can be attributed to the attention to detail of their traditional style beers and the family feel inside the taproom.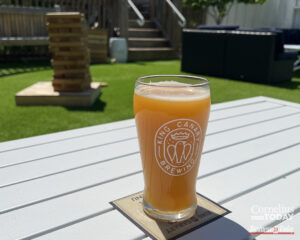 562 Williamson Road, Mooresville. 704.862.4440
This Mooresville brewery grew out of a remodeled house overlooking Lake Norman in 2018. The strong branding and innovative beer profiles have made King Canary a "successful and thriving business."
Part of their mission is also to give back to the community.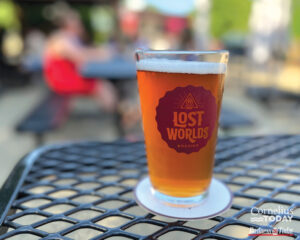 19700-D One Norman Blvd., Cornelius. 980.689.2467
Lost Worlds was founded on the premise "that great beer and adventure go hand-in-hand." Looking around the taproom you'll find artifacts that tell a tale and beers brewed from classic styles and those with "roots from around the world."
Expect Lost worlds to continue to innovate and differentiate their brand with new collaborations and partnerships.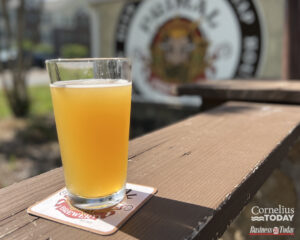 16432 Old Statesville Rd., Huntersville. 704.947.2920
Primal Brewery can trace its' roots to the sidelines of a Huntersville soccer field that Co-founders, Ray Steimel and David Hoy first met on.
The home brewers strongly believe in "the experience of bringing people together and having a good time with great beer and good food."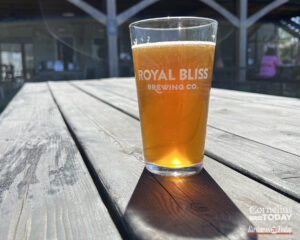 7532 Royal Bliss Court, Denver. 704.951.8388
Family-owned and operated by Larry and Ginger Griffin, Royal Bliss Brewing Co. is a refined, yet approachable, brewery built on the idea that "Balance is Bliss."
They offer an on-location kitchen with seasonal menu, live music and a host of special events like Cigars on the Terrace and Beer Pairing Dinners.