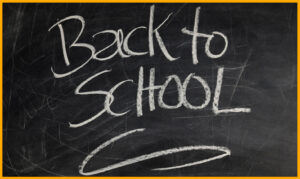 Aug. 29. Your kids will be more active, if you are active with them. 
"As classroom requirements increase, PE and recess often get pushed aside," says Dr. Stephanie Sherrill, pediatrician at Atrium Health Levine Children's Suburban Pediatrics. "Many kids also face a mountain of homework after school, so it can be difficult (but not impossible) to fit in fitness." 
It's easy to go home after a long day and just "veg out," Sherill says. "Exercise can be great for stress relief and is key to managing many chronic diseases.
"It can be as easy as walking, riding a bike, bowling or putting on some good tunes and dancing around the house.
"Yoga is another great family activity that can be accessed online for free and quickly for those with time constraints.:
Going on an outdoor adventure is another way you can make sure your children stay fit after sitting all day at school, Sherrill says.
"Bottom line, your kids want to spend time with you, so get active with them. You'll get as much out of it as your kids do," says Sherrill.
Here are some easy ways to get a breath of fresh air and have some fun:
—Check out a local greenway for a walk or bike ride or one of our great state parks for a hike.
—In the fall, complete a maize maze. The Rural Hill Amazing Maize Maze in Huntersville is scheduled for Sept. 10-Nov. 6.
—Try letterboxing. Great for young kids, this activity involves giving kids clues that lead them to a box that you've hidden outdoors. The box contains a notebook and a rubber stamp that they can make an imprint of in their own personal book. In turn, they leave an impression of their personal stamp in the box's notebook to prove they found the box.
"I have done this with my own kids while on vacation at the beach, in the mountains and at their grandmother's house, and it's always a hit," says Sherrill.
—Get sporty.  From soccer to swimming to cheer, getting kids interested in sports not only builds fitness but also teaches them teamwork and self-confidence. Check out Cornelius Parks & Recreation Department programs and parks with seasonal as well as year-round sports.
"It may take a while for your children to find their passion but getting out there is the first step," Sherrill says.