April 21. A celebrity-worthy estate known as Merancas Island has gone on the market for $22 million.
The property near the south end of the lake in Huntersville is virtually an island unto itself, with little more than a driveway connecting the mainland to the 4.5 acre estate at 14051 Island Drive.
Mecklenburg County records show the estate is owned by Johanna and Cornelis Mermans, one of the founders of the Photo Corporation of America, a hugely successful photography business launched in Charlotte in the 1960s. According to the Merancas Foundation website, it expanded into Europe, Australia and Japan and employed as many as 7,500 people.
Sotheby's has listing
The expansive private property is listed with Jessica Grier and Ben Bowen of Premier Sotheby's International Realty.
With 360-degree views and hundreds of feet of waterfront, the property is assessed at $6.78 million.
The estate is a landmark on Lake Norman with an architecturally splendid main house and guest house designed by Harry Schrader, as well as docks, a tennis court and sculptures.
Gated estate
A private gated entrance leads to the home with an extended opening surrounded by a koi pound and sculpture garden.
The primary residence has three bedrooms, five full baths and one half bath in 12,888 square feet.
Notable features include a gourmet kitchen with custom built-ins, elevator, floor-to-ceiling windows and a spiral staircase.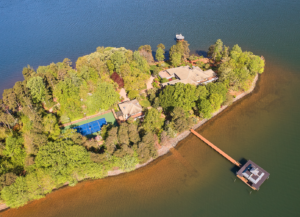 The main residence features a library, master suite, exercise room and dance studio, music room, recreation room, temperature-controlled wine cellar and multiple terraces as well as a distinctive indoor pool with a waterfall feature, sunroom, steam shower, sauna, outdoor shower and pool courtyard.
The listing says it is an "expertly curated personal haven that sets the stage for the best of indoor/outdoor living."
Two-story guest house
The two-story guest house includes nearly 1,700 square feet of living space with a full kitchen, balcony, two bedrooms, one and a half baths, three additional garage bays and boat storage.