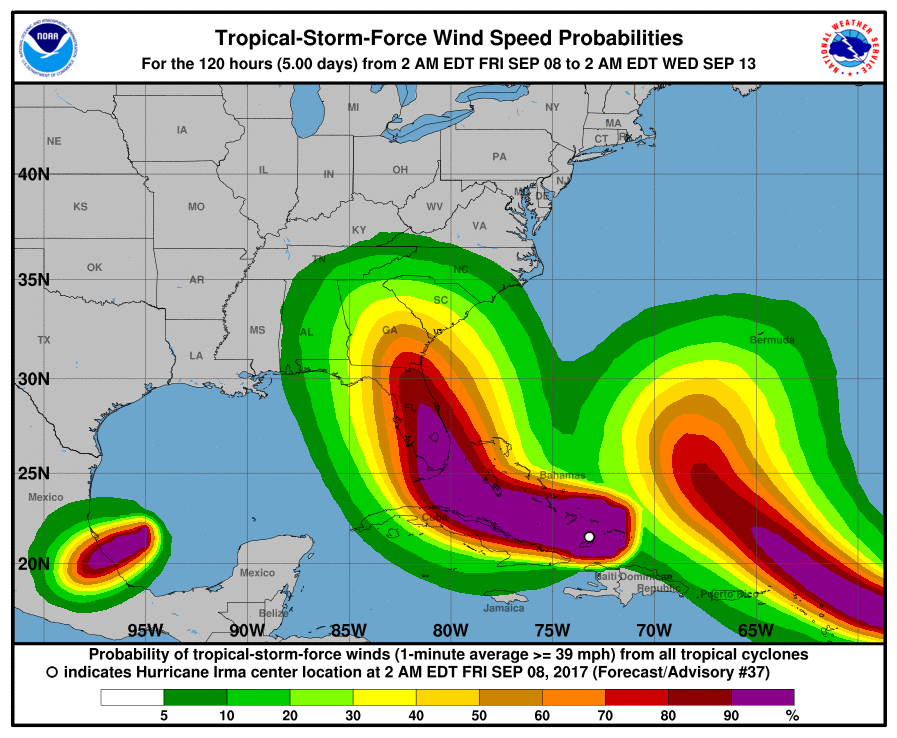 Sept. 8. It looks like Hurricane Irma will deal Cornelius a glancing blow late Monday and Tuesday. The center of the storm, which will turn north toward Florida tomorrow, is now likely to track about 100 miles west of Charlotte, according to new forecast. That's farther than first thought and winds will likely not be as strong, the National Weather Service says.
Models but we'll still feel the effect of the massive storm. Sustained winds could be in the 30 mph range, with gusts in the 50-60 mph range. Nevertheless, there's a 100 percent chance of rain Monday night, heavy at times. Tuesday, the chance of rain here drops to 80 percent. Wednesday looks like clearer weather, according to the NWS.
Steady winds and soggy ground could lead to downed trees, so residents may still want to be prepared for power outages. Meanwhile, two more hurricanes are lining up in the Atlantic Basin. Hurricane Jose has reached major hurricane status, while Katia is threatening to barrel into Mexico early Saturday, with no threat to the US mainland. This is the first time in 7 years that three hurricanes have spun in the Atlantic at the same time.
Enjoy the weather today, Saturday and Sunday. The National Weather Service says it will be 76 degrees this afternoon, and sunny, the same Saturday and Sunday, which will be cooler and just as sunny.