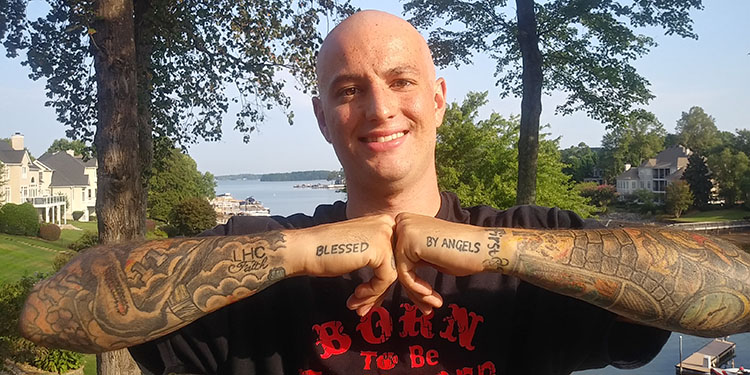 Dan Murphy is glad that he got fired from his job as a bartender at Alton's Kitchen & Cocktails.
The 28-year-old finally had enough time to get himself to the doctor to  get a check-up and ask about the nagging cough he had for about six months.
The diagnosis: Lung cancer. Not just that, but Stage 4 lung cancer.
His immediate reaction: A laugh, and then, "I can beat this thing."
So far, he is. Doctors at Levine Cancer Center in Charlotte say they caught it early enough to be hopeful and confident.
He is currently undergoing chemotherapy, immunotherapy, and protein therapy every three weeks. Treatment is expected to continue for two years.
Murphy, a non-smoker, says doctors said genetics played a role, not smoking. It took two months to get the diagnosis, which is exceedingly rare for someone his age.
"Yeah, I am not worried. I got this," he says.
The bills so far are in excess of $50,000. And lest anybody be concerned about his getting fired from Alton's, it happened before the diagnosis and Dan has no hard feelings.
In fact, Alton's will be bringing its famous smoker-grill to a fundraiser for Murphy's medical costs that will be held at 2 p.m. Nov. 16 at Lake Town Tavern.
"I appreciate you shedding light on his illness to help raise money as I know many others in the community are doing including ourselves," says Alton Updike, owner of Alton's.
He's contributed $500 to a GoFundMe fundraising page that was approaching $9,000 toward a $40,000 goal in late September.
Murphy is the kind of person who shrugs off concerns, but is good at listening during the conversations that get serious over a Bourbon.
Tips were lucrative with seven years of bartending under his belt.
Murphy grew up on Long Island where he was a noteworthy hockey player starting at age 5. The entire family moved from New York to North Carolina.
He's been a bartender for seven years and is currently working on getting his real estate license. He and girlfriend Barbara Lancaster  now live in the Westmoreland neighborhood with three children, including Dan's 5-year-old daughter who just started kindergarten.
Cancer is a big, weighty thing, but Murphy says it has improved his outlook on life. Chores like doing the dishes are a good thing, he says, giving him time to think about the things that matter.
Like taking the kids to school. Being with friends and family.
His daughter, his girlfriend and her boys are all reminders for him to fight and beat this. 
"We are grateful to have the people in our lives that we have, along with their support and prayers. Dan is a really good guy, an amazing father, and a very hard worker," says his mother, Donna Murphy, who also lives in Cornelius.
"He deserves all of the help he can get," she says.
To find the GoFundMe page, search 'Help Dan beat Lung Cancer (stage 4)'