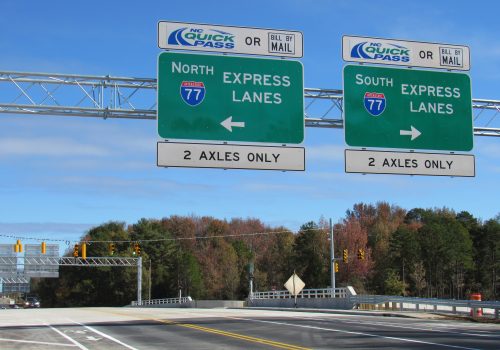 Feb. 5. I-77 Mobility Partners and the NC Dept. of Transportation will allow more types of vehicles into the I-77 Express lanes starting Feb. 8.
Larger two-axle vehicles and vehicles pulling single axle trailers can begin using the express lanes.
"Expanding the type of vehicle that can enter the toll lanes is an acknowledgment that even prior to the pandemic that toll revenues were lagging lofty projections," said Huntersville Mayor John Aneralla.
Bill Russell, CEO of the LKN chamber emphatically agreed.
"The truth of the matter—even when NCDOT buys out the contract—is that the roadbeds will never be thick enough to support anything other than two axle vehicles," Russell said.
New classification
Revised I-77 Express regulations will add a new classification of "Extended Vehicles" that will allow larger vehicles that have previously been restricted to access the express lanes. Extended Vehicles are two-axle motor vehicles whose length exceeds 22 feet or that are pulling a single axle trailer.
Pilot program
The pilot program offers a wider variety of businesses and individuals throughout the region to begin using I-77 Express for a reliable drive time to move goods using larger vehicles like vans, two-axle box trucks and/or flat-bed trucks.
Service-based businesses that rely on single-axle trailers will also be able to use the express lanes to regain valuable travel time and get more work done each day.
"When a business can move a product or travel to perform a service in a reliable drive time, it makes them more efficient. Efficiency ensures more time for more business, and more business generally equals increased profits," said I-77 Mobility Partners Chief Operations Officer David Hannon.