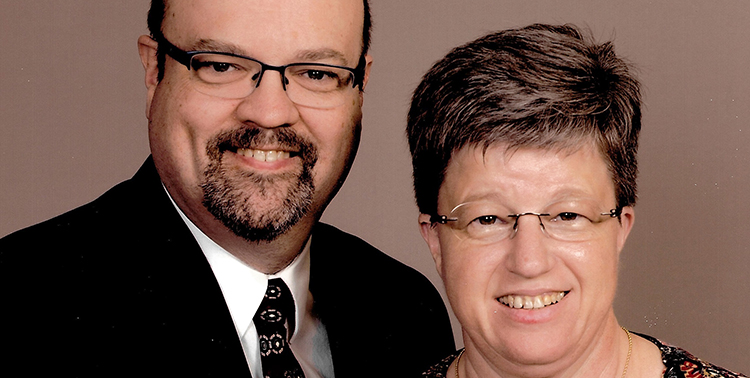 By Dave Yochum. A new husband-wife senior pastor team led services for the first time today at Mt. Zion United Methodist Church, one of the largest churches in Lake Norman. As such, they'll be spiritual leaders of thousands of Cornelius residents, from pre-schoolers to seniors.
In between is one of their challenges: Young people who might be drawn away from mainstream Protestantism. Young people are searching for meaning and direction in their lives.
"The first thing we have to do is offer them the gospel message of God's grace in Jesus Christ in a way that is authentic, compelling and transformative," says Jonathan Marlowe, half of the new senior pastor team at Mt. Zion.
Angela, the other half, says: "In order to do this, we have to be able to speak and relate to young people in a language they can relate to. We plan to use social media, and other more personal ways of connecting to all generations."
They take over the senior levels of the church from the Rev. Dr. Mary John Dye, who battled health issues as well as the late unpleasantness around the Confederate Veterans Monument on private property—not church property—on the lawn in front of Mt. Zion.
It was first vandalized almost exactly a month after the racially motivated shootings three years ago at Emanuel African Methodist Episcopal Church in Charleston, S.C. It happened again last year, deepening concerns across the community about race relations.
Mt. Zion Associate Pastor Joel Simpson, along with a pastor from Davidson United Methodist Church, led a candlelight prayer vigil after the second incident. A series of community gatherings seemed to trail off.
"Once we get to Cornelius, we plan to talk with and listen to the members of our church and community concerning the monument," the Marlowes said.
They're well-equipped to deal with not just a large church, but diversity.
Jonathan is currently the pastor at two churches that are two miles apart.  One is predominantly white, and the other is predominantly African-American.
He preaches at one church at 9 on Sundays, the other at 11.
"I have learned so much from the tradition of the black church, and that is now part of my spiritual DNA. Racial reconciliation is one of the dimensions of Christian ministry that I am most passionate about," Jonathan says.
Angela is also the pastor of two churches that are about nine miles apart and preaches at both every Sunday morning.
"Both churches strive to be a beacon of light within their individual communities.  In this way, they are like a church of any size and in any community," Angela says.
There are lots of different kinds of clergy, not just from a denominational perspective, but age, temperment and gender.
Gender was once a discussion point in mainstream Protestantism, despite the fact that the early church had powerful and fearless female leaders, including the husband-wife team of Priscilla, the wife and equal of Aquila.
They lived, worked and traveled with the Apostle Paul who described them as "fellow workers in Jesus Christ."
Jonathan and Angela will share preaching duties, alternating from week to week most of the time. They will divide the other duties as well.
Some of the committees will relate to Angela, while some will relate to Jonathan.
They will also share the pastoral care with those who are sick with the associate pastor, the Rev. Tony Moreau. Dye has moved to Broad Street United Methodist in Statesville, while Simpson has moved to First United Methodist in Taylorsville.
The Methodist Church frequently moves its pastors rather than have them become a permanent fixture in one community.
Mainstream churches have struggled nationwide with shrinking membership rolls. The Pew Research Center's 2014 Religious Landscape Study says only 14.7 percent of U.S. adults are part of the mainline Protestant tradition – a sizable decline from 2007, when the last such study was conducted.
The number of mainline church-going Protestants has declined at a faster rate than any other major Christian group, including Catholics and evangelical Protestants.
According to Pew, mainline U.S. churchgoers decreased from about 41 million in 2007 to 36 million in 2014. Meanwhile, younger people are less likely to identify with mainline denominations. Among Millennial adults, only 11 percent are mainline Protestants, 16 percent are Catholics, 21 percent are evangelical Protestants and 35 percent are religiously unaffiliated.
It means the Cornelius faith community has changed over the past dozen years. Non-denominational churches such as Elevation and Love Lake Norman are growing.
The Marlowes intend to get to know Mt. Zion members on a personal level. "We want to know their stories, their histories, their hopes and dreams, so that together we can articulate a common vision for Mt. Zion in our community and witness to the Kingdom of God in our midst," they said.
In a way, this is a homecoming for the couple. They were married at Mt. Zion 25 years ago by the Rev. Ned Owens, the senior pastor at the time. Also officiating were  Reuben Marlowe, Jonathan's father, and Nancy Campbell, a good friend of Angela's.
The husband-wife team say they are looking forward to meeting all the people and engaging with different age groups.
They intend to spread the word in a way that is authentic and compelling. Their first Sunday is July 8.
"God has given us the best story in the world," Jonathan says.