April 7. Huntersville is accepting applications through April 9 for the Public Art Commission.
Serving as a member on these advisory boards gives residents an opportunity to give input andsuggestions regarding leisure, parks, trails, greenways, art and recreation activities in the town. 
These advisory boards provide an invaluable service to the Huntersville Parks and Recreation Department and the Huntersville Town Board by providing insight and direction on programs, policies, procedures and facility needs.
All advisory board members are appointed by the Huntersville Town Board. Applicants must be Huntersville residents.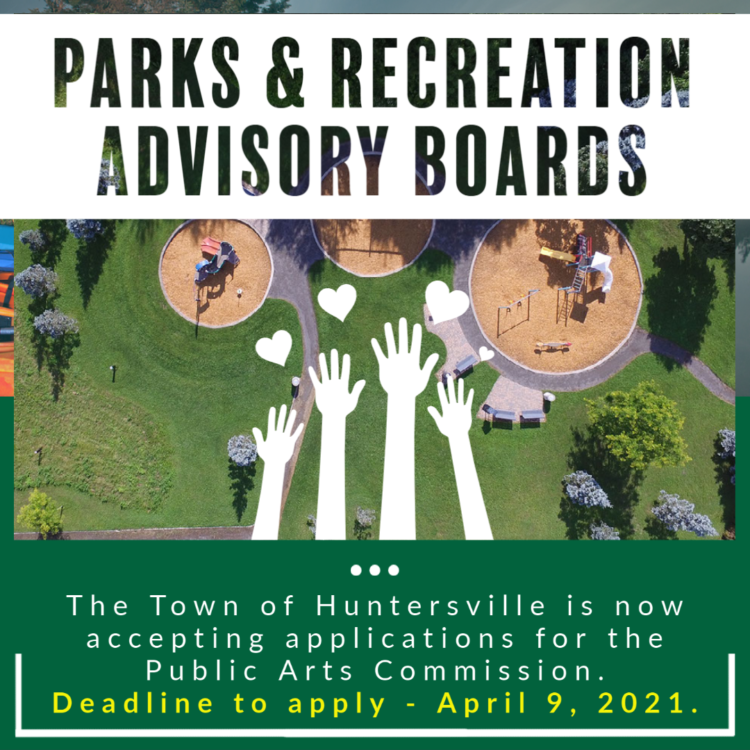 PAC meets on the second Wednesday of the month.
Please complete an application found here. All applications must be received by April 9, 2021. 
You can call the Huntersville Parks and Recreation Department at 704-766-2228 for information.
Applications can be mailed to: Huntersville Parks & Recreation PO Box 2879 Huntersville, NC 28070
Attn: Brenda Schrodetzki 
or emailed to: bschrodetzki@huntersville.org