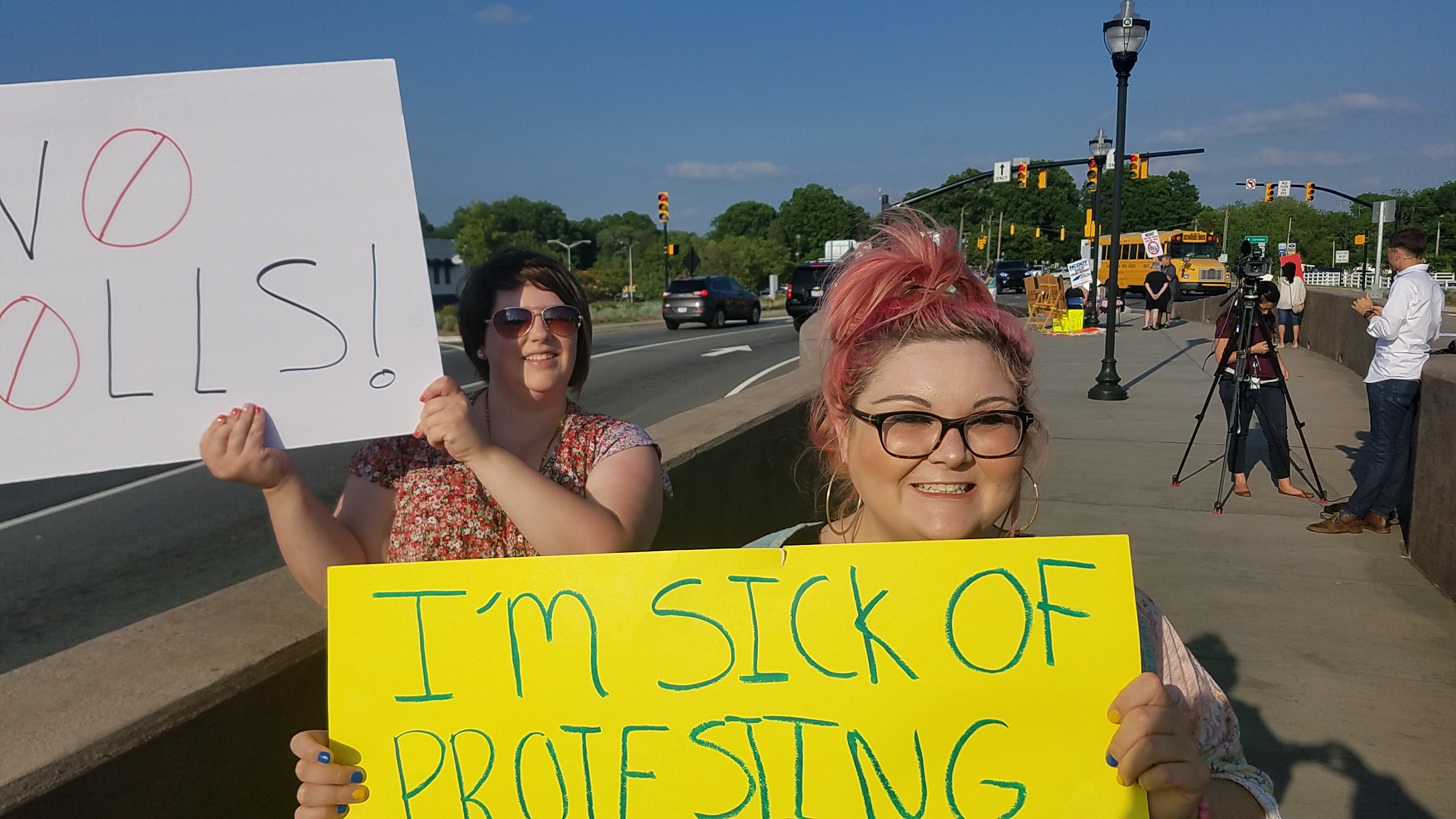 April 28. By Dave Yochum. More than 200 people descended on the Exit 28 bridge on a hot Friday afternoon to protest the $650 million, 50-year contract with Cintra. There was consistent support from passersby who gave a thumbs up and blew their horns on the third anniversary of the first toll protest, the first known protest march in Cornelius.
Mainstream business and political leaders paced the bridge walkway, as well as seniors from Mooresville and Huntersville, not to mention an art collector, a former Scout leader from Cornelius and a variety of Charlotte television news reporters.
Protest organizer Stacy Phillips said she was gratified by the turnout and the steady show of support from people young and old who drove by.
The mainstream nature of the toll lane opponents has always been clear—Exit 28 Ridiculousness has more than 7,500 members on Facebook—but top-deck politicians know that supporting the fight will help come election time.
Mecklenburg County Commissioner Pat Cotham, a long-time toll opponent, said the business implications around the monumentally flawed are becoming more and more clear. Republican NC Sen. Jeff Tarte says there's malfeasance involved.
In addition to trucks not being allowed in the toll lanes themselves, the details in the contract suggest that the NCDOT was aware that the addition of toll lanes will do nothing to alleviate congestion in the general purpose lanes between Lake Norman and Charlotte.
While some people can live with congestion, truckers can't. It means that commerce and industry will steer clear of this part of I-77, in favor of more consistent and predictable routes to and from customers.
South Carolina, Cotham says, is beefing up its interstate connections between the coastal port and Charlotte's intermodal facility to become even more competitive than it is.
"They know what they're doing," she said.
In spite of the fact that the toll lanes are well under way, the contract is under an independent review by Mercator Advisors.
Among those protesting on the bridge Friday afternoon were NC Rep. John Bradford; I-77 Call to Action leader Mac McAlpine; Cornelius Commissioner Mike Miltich; WidenI-77 founder Kurt Naas; Huntersville Commissioner Danny Phillips, Stacy's father; Chamber CEO Bill Russell; and Cornelius Mayor Pro Tem Woody Washam.
Dee Gilroy, a leader in the anti-toll movement and the wife of Cornelius Commissioner Dave Gilroy—an early toll opponent, along with Naas—carried a sign that said "Toll Traitor Chuck Travis Vote Him Out."
It was a year ago that Travis went to Raleigh to meet with statewide legislators to express his support of the tolls, in spite of multiple votes by his town board expressing opposition to the tolls or asking to delay the contract.
Mayor Pro Tem Washam has announced his intentions to run for mayor this fall, while Travis has kept his intentions to himself.
The town board has voted to censure Travis, but he has refused to resign.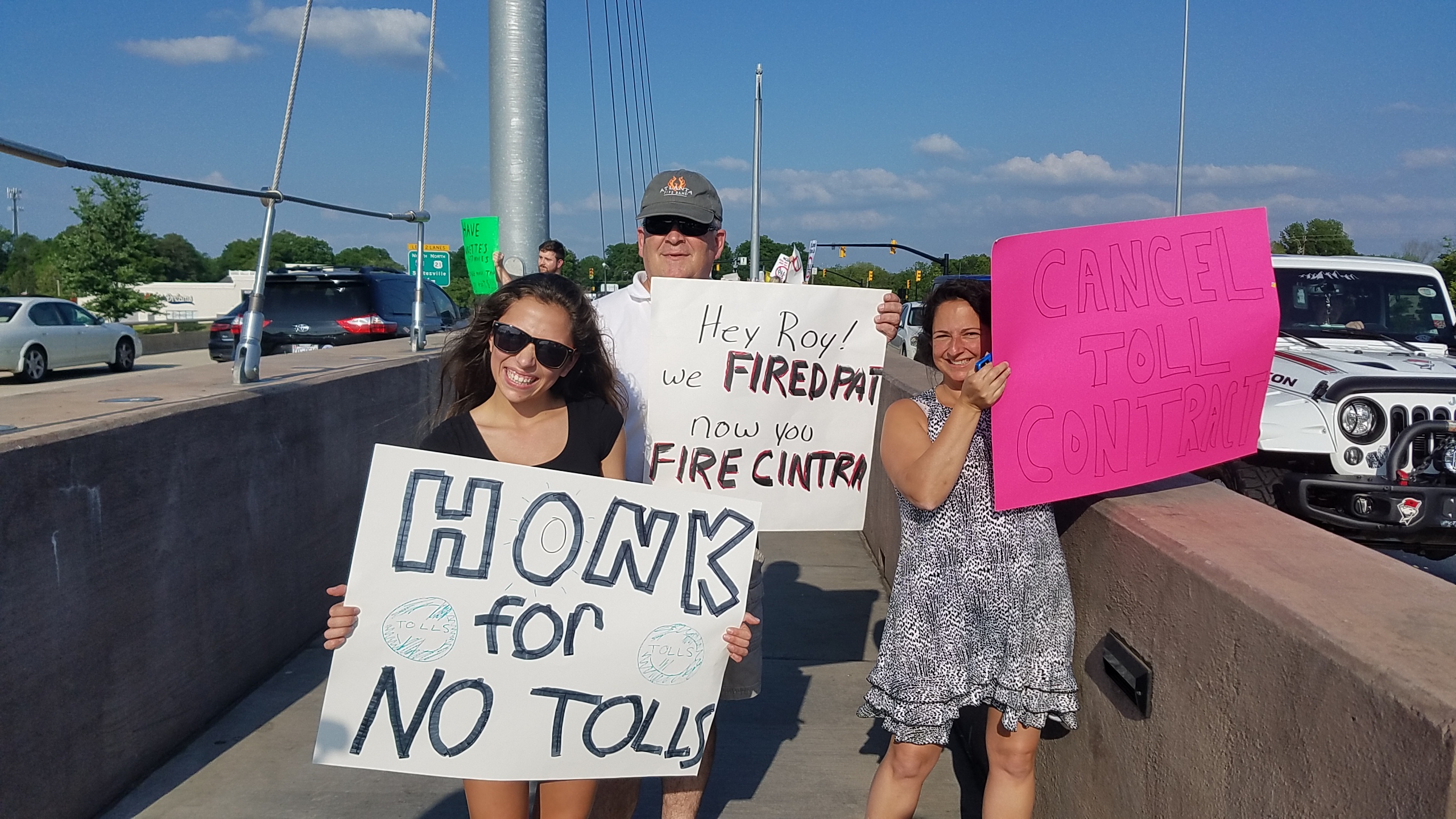 Haley Vogel, former Scout leader Rick Monroe, Noelle Vogel
MAIN PHOTO: Stacy Phillips, foreground; Courtney Shaughnessy