Nov. 11. More than 300 people attended the traditional Veteran's Day Ceremony at Town Hall today under brilliant sunshine. Country music star Rocky Lynne sang as well as the Hough High Choir, which performed the traditional Armed Forces Medley. The backdrop was the Veteran's Monument at Rotary Plaza where thousands of local names are inscribed on granite.
Brig​.​ Gen​.​ James R. Gorham, the first African-American brigadier general in the North Carolina National Guard​, spoke about the heroism of soldiers and the sacrifices both they and their families made.
​The program got under way at exactly 11 am on Nov. 11, 101 years to the hour after the official cessation of hostilities on the Western Front of World War I.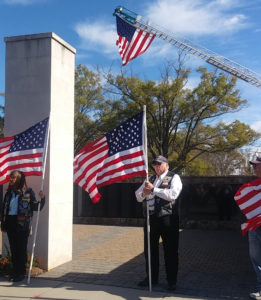 Sayle Brown, a Cornelius resident, presented Mayor Woody Washam with an American flag that was flown over the Special Operations Task Force Headquarters at Al Asad Air Base in Iraq on Jan. 17, 2019.
In his comments, Brown said forces under the command of US Navy Commander William Francis were the main effort in destroying the Isis Caliphate during Operation Inherent Resolve.