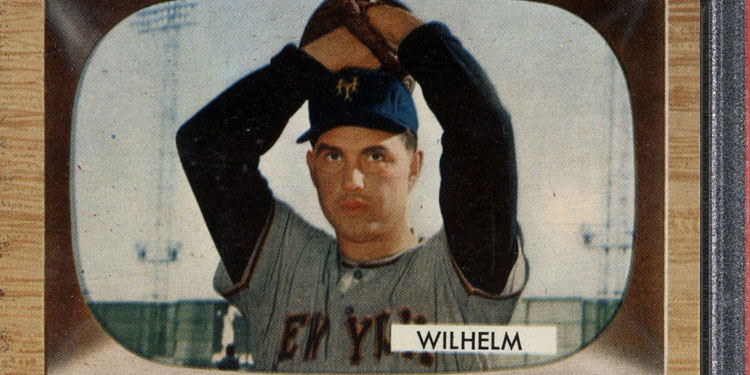 The Town of Cornelius has officially honored baseball Hall of Famer Hoyt Wilhelm, declaring Monday Hoyt Wilhelm Day.
Cornelius resident Bob Deaton, a second cousin of Wilhelm, said the famous knuckleballer grew up on a farm that is now in Huntersville, but attended schools in Cornelius back when places east and west of the center of Cornelius and Huntersville were unincorporated Mecklenburg County.
The New York Times says the modest, God-fearing pitcher "twisted Yankee hitters into knots." Wilhelm pitched a total of 1,070 games; he was an All Star five times.
Hoyt was a Cornelius boy. In fact he took the belle of Cornelius, Miriam Smith, to the Cornelius High prom in 1940. Now Mrs. Rod Whisnant, she says he was "good-looking, quiet and sweet. Just a nice boy." He did not try to get to first base.
Wilhelm pitched for the New York Giants, the St. Louis Cardinals, Cleveland Indians, the Atlanta Braves, the Chicago Cubs and the Los Angeles Dodgers between 1952 and 1972.
His induction into the Hall of Fame is a lesson in humility and servant leadership.

Wilhelm's father and Deaton's grandmother were brothers and sisters. "Hoyt was the most humble individual that played baseball you would ever meet. Hoyt knew what the meaning of pitcher meant: 'Give me the ball and I will throw it to the catcher.' He never got upset or concerned about what happened after he released it. It's so different from what we have today," said Deaton, who lives on Belle Isle Drive.
Wilhelm credited his high school history teacher and coach, Mr. Ben Brown, during his Hall of Fame speech. As is the case with superstars, Huntersville tries to lay claim to Wilhelm as well.
But the fact is, Hoyt palled around with Cornelius kids and went to school here. He lived in Sarasota, Fla., as an adult. His wife Peggy passed away in May.
According to Wikipedia, Wilhelm appeared occasionally as a starting pitcher, but he pitched mainly as a specialist relief man, a role in which he won 124 games, still the record for relief pitchers. He was the first pitcher to reach 200 saves and the first to appear in 1,000 games.
He was the first relief pitcher inducted into the Hall of Fame. He and Peggy raised three children together: Patti, Pam, and Jim. Wikipedia says Wilhelm died of heart failure in a Sarasota nursing home in 2002.
An article from the New York Times referred to Wilhelm:
"The last pitcher to no-hit the Yankees by himself was Hoyt Wilhelm, a godfather of the knuckleball, who twisted Yankee hitters into knots on Sept. 20, 1958, while pitching for the Baltimore Orioles."
James Hoyt Wilhelm's obituary in The New York Times on Aug. 25, 2002, captured his down-to-earth nature. When asked by a reporter to explain his success, Wilhelm said, "I never went into a game and got all flustered up."
He would have turned 93 on Sunday.