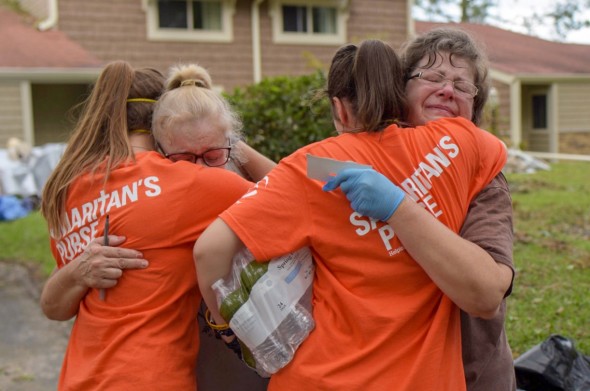 Sept. 20. By Dave Yochum. UPDATED 8 AM. Clothing and food drives are coming out of the woodwork as coastal North Carolina dries out from a Tropical Storm Florence, an event that brought devastation of historic proportions. It's a good idea to know who you're supporting and whether or not they have an adequate logistics system to get aid to the right people in the right places.
A local truck headed to the coast might not be as effective as money given to an agency with a proven track record. By now most people have seen images of 20,000 pallets of bottled water sitting on a runway—unused and spoiled—after Hurricane Maria.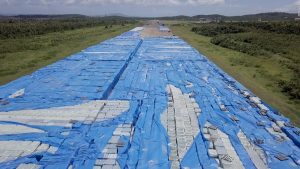 Because of logistics around moving a wide variety of bulky and dissimilar items, money is often the best way to help.
United Way of Central Carolinas is joining with American Red Cross and the Salvation Army, as well as other United Way organizations to get help to people impacted by Hurricane Florence.
"Giving to United Way's Hurricane Florence Recovery Fund will ensure your donation goes to those who need it the most," said Laura Clark, CEO of United Way of Central Carolinas. "A monetary donation is the most efficient way to assist in response and recovery efforts because United Way puts your donation to work by giving the communities impacted the flexibility to respond to their unique needs, instead of burdening them with the distribution of goods."
All individual donations given to the United Way Hurricane Florence Recovery Fund will be distributed to local United Ways in the affected areas.
Donations can be made at unitedway.org/Florence or by texting FLORENCE to 40403.
You should know who you are giving money to. Charity Navigator, a nonprofit organization itself, analyzes data such as a charity's financial health, accountability and transparency to evaluate the support it can provide. Visit https://www.charitynavigator.org/
Your church or synagogue may also have a relief organization with a proven track record. Samaritan's Purse has a proven track record. The international relief organization relies on volunteers and contributions: https://www.samaritanspurse.org/disaster/hurricane-florence/
The Food Bank of Central and Eastern North Carolina is another way to help victims. They have provided food and non-food essentials to over nearly 605,000 individuals, families and seniors throughout a34 county service territory. For every dollar donated, the Food Bank can provide $10 worth of food or five meals. Their overhead is only 3 percent, which means that 97 cents of every dollar goes directly to feeding our hungry neighbors. To donate visit http://www.foodbankcenc.org/site/PageServer?pagename=donate
World Relief, which also has high ratings from Charity Navigator, has set up a special donation vehicle to help Florence victims: https://worldrelief.org/hurricane-florence#give
The North Carolina Disaster Relief Fund is available for donations to support North Carolina's response to Hurricane Florence. To donate, visit governor.nc.gov or text FLORENCE to 20222.
The Humane Society of Charlotte has taken in 85 lost pets so far from the coast.
The organization is actually having a challenge storing the volume of donated supplies. So, the best way to support displaced animals is financially. Donate at their web site www.humanecharlotte.org/storm
The donation link for Lake Norman Humane is http://lakenormanhumane.org/give-online/
NEW FRIDAY 8 AM
The International Medical Corps emergency advance team is working with state authorities to reach towns cut off from care and in critical need of assistance. The IMC team is currently in Morehead City staffing a mobile medical unit provided by Heart to Heart at the County Hospital.
Los Angeles-based NGO International Medical Corps is a global first responder with almost 35 years of experience delivering emergency relief in difficult environments around the world.
How to help: https://internationalmedicalcorps.org/emergency-response/hurricane-florence/