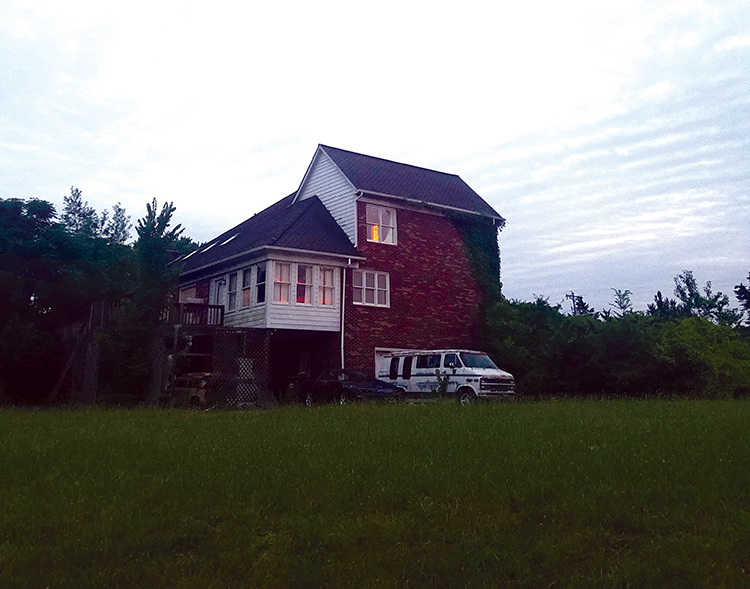 By Dave Yochum. While the Town of Cornelius has decided it can regulate how people can store boats in their yards—we can, but we'll be fined—the town can't seem to do anything about a hulking brick ruin of a house on Bethel Church Road.
It sits like a monster in a nightmare, but one that's gone on day and night for years. There appears to be a decade's worth of overgrowth blocking the front door. Indeed, the front walk stops far away from the front door, obscured by bushes only a chainsaw can tackle. There are broken windows, a rusted Studebaker, a decrepit boat and boarded-up doors.
The rear deck is unsafe, and it's a 12-foot drop into who knows what. This 4,000-square foot home, beautiful when it was built in 1988, is an attractive nuisance, the first place a 10-year-old boy would want to explore.
The names on the deed are Stanley N. Morgan and his mother Druscilla R. Morgan. Both are deceased and the house is tied up in probate.
But it's not as if the house at the corner of Bethel Church Road and Havenview Drive fell into profound disrepair yesterday, last year, or the year before. No one is really sure, but neighbors say the property fell into disrepair well before 2010.
"I moved here four years ago in October and embarked upon this nightmare. This house has black mold, animals and frequent robbers! It is an absolute nightmare that the beautiful town of Cornelius will not do a thing about this house," said Kira Skill, the owner of a lakefront home just across Havenview.
A beautiful neighborhood
This is a million-dollar neighborhood, full of substantial, elegant homes. The Morgan house sits near the center of a 2.1 acre lot that could easily be subdivided with ample room for four McMansions, the kind that are being built on in-fill properties in some parts of town.
A member of the Morgan family described the time before his death as "surreal." Morgan was unmarried and had no children. Neighbors who remember him from parties years ago said he was brilliant.
"When the man was alive, the police were so frightened to approach the house because of the weapons the man had on the property. The man was jailed for threatening the children on the street," Skill said in an email to Cornelius Today.
On Feb. 24 last year Cornelius police "stormed into the home with full-on weapons and found him dead," Skill said in her email.
On a recent afternoon, in broad daylight, she would not walk up the long driveway toward the Morgan house. A tree is growing up through a worn-out Chevy van, and out a door. A ruined Camaro's rear window is completely broken out, creating a perfect breeding ground for mosquitoes, one town commissioner said.
Sad circumstances
How long Morgan, 62, was dead inside the home is unclear. Some people say four months, some say six. Cornelius Today could not obtain a copy of the coroner's report, but Morgan's obituary said he died Feb. 24, 2016 at his home.
He was born in Rowan County in 1953. His parents were Fred and Druscilla Morgan. He graduated from Shelby High School in 1971 and was a member of the marching band before going to UNC-Chapel Hill. He graduated in 1975 with a BS in Business Administration.
Neighbors who got inside the house said the interior was in disarray. Sadly, Druscilla passed away in South Carolina shortly after her son died.
That's about it. There's no Facebook page for Stanley, nor any mentions here or there on the internet. His obituary says he was the owner of SNM Enterprises. It does not show up in North Carolina corporation records. Neighbors say he held a U.S. Patent, but none could be found in his name.
But he does show up in Cornelius Police records. Morgan was clearly a troubled man, with arrests dating back to 2007, when the Camaro, license SNM, was drivable.
On Feb. 16, 2007 he was arrested by Cornelius Police for driving while impaired and having a concealed weapon; in 2008 for carrying a concealed weapon and resisting an officer; again in 2008 for trying to hit an officer with a metal pipe; in 2012 for disorderly conduct and communicating threats; and again in 2012 for communicating threats and disorderly conduct at 19815 North Cove Road, the address of the Harris Teeter.
Morgan's body was removed from the house he built at age 35 on Feb. 24, 2016. His mother died six weeks later.
The town's response
Skill says the town has done "nothing about the stench and disarray, even after many attempts from all of our street. We would plead with the Town of Cornelius but got nothing! Now we just wait as we live among rats, rodents, robbers, abandoned cars and black mold."
She said, "we pay our taxes and this is what we get."
Town officials say there's no simple answer, that local governments can only do what State law authorizes and allows them to do.
Wayne Herron, planning director for the Town of Cornelius, says the Morgan home meets the Minimum Housing Code standards for a vacant home.
North Carolina law does not allow local governments to regulate the appearance of residential properties. In the case of the Morgan house, the overgrown shrubs, boards on the windows and the falling down lattice are all cosmetic issues that local governments may not regulate on residential properties, whether occupied or vacant.
"The main issue I hear from neighbors is the appearance," Herron said.
According to the town, a family member wanted to tear the home down and sell the property, but since the home was in Druscilla's name and she did not leave a clear will, other claims were made on the property and it is now in probate.
"The family is committed to removing the home and selling the property as soon as it clears probate," Herron said.
Dead or alive, Morgan's house was an eyesore for years.
The Morgan house is not like a boat sitting on blocks in the backyard, Herron says.
"You ask about the difference in appearance vs. regulating outdoor storage. Appearance is clearly an issue that we are not able to regulate under State law, but outdoor storage deals with the use of the property and location of items. Local governments are allowed, if they so choose, to regulate types and locations of uses within a property through setbacks, locational standards as well bulk, height other locational standards. This is clearly stipulated in State Statutes," Herron said in an email that was copied to the town manager and the town attorney.