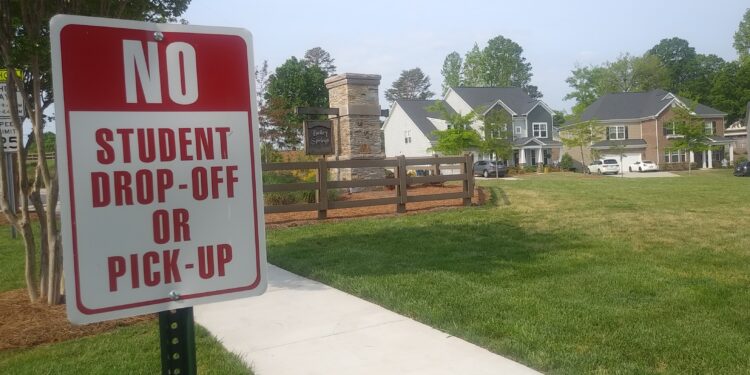 May 20. By Dave Vieser. When residents on Potts Plantation Circle in Bailey Springs observed Hough High students parking on their street, they decided to do something about it. They had speed bumps installed.
The problem: The speed bumps were not installed in compliance with the Town's Traffic Calming Policy. The residents are requesting that the street be accepted for town maintenance—as per usual in a new development—but the speed bumps do not meet the current Town policy for street acceptance.
It turns out the town was not consulted and the bumps may have to be removed.
The problem came to light in April during a Town Board meeting and, while it has yet to be resolved, it also raised a broader issue: Cornelius already has a Traffic Calming Policy that includes measures which can be implemented when problems such as this arise.
"Speed bumps that were installed illegally may put the Town in a situation where there could be issues going forward," said Commissioner Colin Furcht. "We now have to make a tough decision. We can't set a precedent where communities take on these fixes and then need the Town after the fact."
Traffic calming policy
The policy, adopted in June 2005, only pertains to town-maintained streets. It does not apply to the busier state-maintained roads such as West Catawba Avenue or Main Street.
According to the policy, "the Town will exhaust all other initiatives to calm traffic prior to considering the installation of speed bumps. All speed bump eligibility requirements must be met for the Town to consider installation. Meeting these requirements does not guarantee installation."
Assistant Town Manager Tyler Beardsley said that when the Town receives a request from an HOA or neighborhood, they will install radar speed signs that collect speed data.
"Based on the data collected from these signs, we will determine the next steps for any traffic calming measures," Beardsley said. The town typically will collect data in each direction for three or four weeks
Last resort
Steps that could ultimately be taken under the policy include police enforcement of speed limits, lowering speed limits, disallowing parking, imposing turn restrictions, installing multi-way stop intersections, striping the pavement or—as a last resort—installing speed bumps.
Therein lies the town's challenge around Potts Plantation Lane: Residents skipped to the last resort without receiving town permission or having their road accepted for town maintenance.
And if it's not a town road, Cornelius Police are not going to enforce parking restrictions.
In conjunction with this issue, at the April 18 Town Board meeting, a discussion was held among commissioners on having the town initiate a study on the greater problem—traffic around Hough High.
"If the Board wants to do this, we can do so, but we'll need permission from CMS to enter their property for such a study" said Town Manager Andrew Grant.
The issue may require a study or engaging with CMS which means more delays.
Furcht said he hopes other communities "see this and make an effort to work with the Town" before making decisions like this. "I'm still not 100 percent sure what the best course of action is here."