March 9. The Hough CyberPatriot team placed third in their division in the State Round of the 2016-2017 National Youth Cyber Defense Competition, sponsored by the Air Force Association.
The competition puts teams in the position of newly hired IT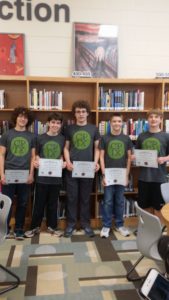 professionals tasked with managing the network of a small company.
In the rounds of competition, teams are tasked with finding cybersecurity vulnerabilities and hardening the system while maintaining critical services. The members of the Hough CyberPatriot team are (from left): Sebastian Alberdi, Chris Mason, Ben Trainum, Cole Reed and Rees Payne.