Jan. 18. The Hope House Foundation, which provides transitional housing to women and children experiencing homelessness, is conducting a shoe drive fundraiser now through March 15. Called "Kick Homelessness to the Curb," the first goal is to collect more than 2,500 pairs of gently worn, used shoes.
The subsequent goal is then to collect a check from Funds2Orgs based on total weight.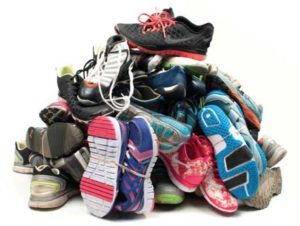 The Funds2Orgs mission is to help micro-preneurs create, maintain, and grow small businesses in developing countries. Proceeds from the sales of the shoes are used to feed, clothe and house these entrepreneurs' families.
Debbie O'Handley, executive director of the Hope House Foundation, said most people have extra shoes in their closets they might want to donate.
By giving them to Hope House, "we have the chance to help families in developing nations. It's a win-win for everyone."
Donation bins will be placed throughout the Lake Norman area. Donors can also drop off shoes at the Hope House in Huntersville, located at 15604 Northcross Drive.