July 2. Whether you take Friday or Monday off for the Independence Day holiday, or if every day is like the weekend, the next few days will be hot and sunny. The National Weather Service says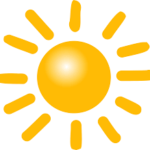 Friday will be sunny with a high of 91 degrees. Daily highs Independence Day and Sunday are 93 and 90, respectively.
On Monday, look for  chance of showers and thunderstorms also possible after 11 am, with a high near 88.
Click here to see what the next seven days will look like.