June 3. By Dave Yochum. There may be no saving a historic downtown building whose roof collapsed earlier this week. State inspectors yesterday directed the property owner to remove the second story.
Owner Corner Oak LLC could not be reached for comment, but they are consulting with contractors and Mecklenburg County as to how the second floor can be safely removed and what is required as far as demolition permitting.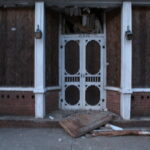 The building at 21320 Catawba was built around the turn of the 20th century. It sits on a little less than a half acre, separated by an empty lot from the new Cain Center for the Arts. Known as the Smith Building, it has been unoccupied for years.
Reader Tim Wally said his grandfather ran a grocery store in the building from the 1940s to the 1960s known as Mayhew's Grocery.