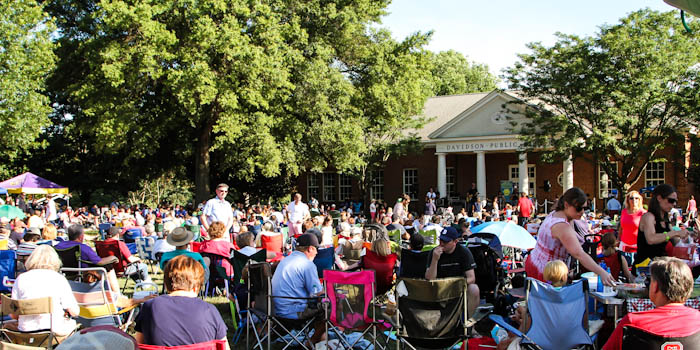 April 11. The Town of Davidson is concert central for 2022 with groups like Band of Oz, Davidson College Symphony and the mayor himself performing.
In addition to the Village Green, concerts will be held at the Circles on Jetton and the porch of Crazy Pig on various Saturdays and Sundays now through late October.
Concerts on the Green (Sunday 6-8 pm. Saturday as noted.)
April 24, Davidson College Symphony & Jazz Ensemble
May 1, Carolina Soul Band (R&B Variety)
May 15, Blue Dogs (Americana)
June 12, Band of Oz (Beach)
Saturday, June 25, Dave Matthews Tribute Band
July 3. Rivermist (Variety)
August 14, Gospelfest (Gospel)
Saturday, August 27, Groove Machine (Music of the 70s)
September 11, Tim Clark Band (Variety)
September 25, Davidson College Symphony & Jazz Ensemble
October 2, 90s Kids (90s Tribute)
October 16, Beatlesque (Beatles Tribute)
Concerts @ the Circles (Acoustic artist 5 pm, headline artists 7 pm)
May 7, Earth to Mars (Bruno Mars Tribute)
May 21, Abbey Elmore Band (Rock)
June 4, Crucial Fiya (Reggae)
June 18 80z Nation (80s Tribute)
July 2, Radio Revolver (Variety)
July 16, REO Survivor (REO Speedwagon/Survivor Tribute)
August 6, Shot Thru the Heart (The Bon Jovi Experience)
August 20, Pushh (Variety)
October 1, Rev On (The Foreigner Experience)
October 22, Carolina Soul Band (R&B Variety)
Second Saturdays at the Square (The Crazy Pig 6 pm)
May 14, Those Meddling Kids (Variety)
June 11, Pushh (Variety)
July 9, Brooks Dixon Band (Americana)
August 13, Southside Saints (Variety)
September 10, Rusty Knox Duo & Paul Atkinson Band (Bluegrass/Americana)
October 8, Stella Rising (Rock Variety)
More information: www.concertsonthegreen.com.