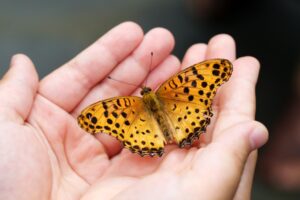 June 20. Pollinator Week is an annual celebration in support of pollinator health that was initiated and is managed by Pollinator Partnership.
It is a time to raise awareness for pollinators and spread the word about what we can do to protect them.
Pollinator Week 2022 (June 20-26) is the 16th consecutive year of bringing greater awareness to the critically important issue of pollinator conservation
Pollinator Partnership will again co-host a week-long Pollinator Power Party with the Electric Power Research Institute. The virtual party will include talks by international experts on pollinator-friendly gardens, honey production, moths and butterflies, and an exploration of Pollinator Myths. A full line-up of the more than 300 Pollinator Week activities can be found here.
The 2022 Pollinator Poster "The Wings of Life: Pollinating Butterflies and Moths" by artist Natalya Zahn, is available online. Explore the poster online in the interactive "poster map" or order a copy of your own.
Looking to support pollinators while mastering your cooking skills? Check out the Pollinator Partnership Pollinator Friendly Cookbook. This resource encourages folks to explore new recipes featuring ingredients that rely on pollination services. Download here.
Want a recipe for a successful garden? Check out the North American Pollinator Protection Campaign Garden Recipe Cards – all the ingredients you need to plan and plant a successful pollinator garden. You'll find them here.
Click here to create a pollinator habitat by downloading Ecoregional Planting Guides.
You'll find information on bees and pollinators, how to plant for them, and native plant lists specific to each ecoregion, vetted by local experts.