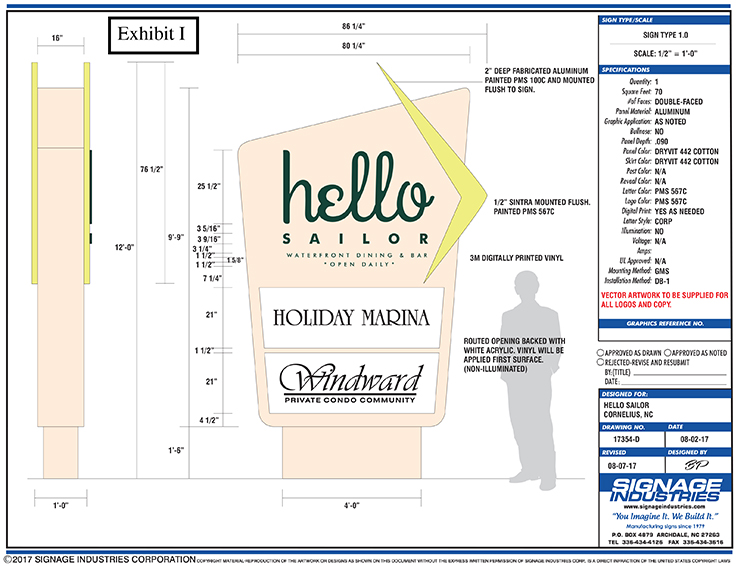 Oct. 26. Work continues at Hello Sailor, the much-anticipated restaurant which will occupy the old Rusty Rudder space, but an October opening isn't going to happen.
For one thing, the proposed sign for West Catawba was too big for the Planning Board.
The Planning Board balked at Hello Sailor's request for a 12-foot high sign on West Catawba. "The design of the sign is fine but it's just too big," said Chairman Keith Eicher. The Board asked that she return with a smaller size sign proposal in November.
Co-owner Katy Kindred said they hope to be open by mid November. Crews were hard at work on that 4,000-square-foot restaurant this past week; hiring for line employees could begin in November, says Kindred, who opened the successful Kindred restaurant in downtown Davidson two-and-a-half years ago with her husband Joe Kindred.
Hello Sailor will be an entirely different style of eatery with a punchy decor and bright colors. What will be the same is a focus on hospitality, attention to detail and fresh, high-quality ingredients.
There will be dockside dining and options that suit a casual lake lifestyle.
RETAIL UPDATE
There's plenty going on in Cornelius on the construction front.  Crews have started clearing the land for a new Pike's Nursery on Hwy. 21 near Jay's at the Lake. Pike's already operates 16 retail stores, including two in the Charlotte market, and 14 near Atlanta. Plans include a 10,000 square foot building and a 20,000 square foot indoor greenhouse opening in the first half of next year. In addition to16 retail nurseries, Pike's has a full-service landscape installation and design division.
Pike's most recent garden center opened during fall 2016 in Matthews and the Cornelius center is expected to be similar in size and design.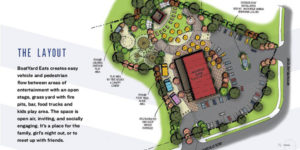 Meanwhile, just south on 21, "Boatyard Eats" will take over the long vacant marina diagonally across from Tenders PDQ. Under the plans submitted by David Stockwell, vice president of Emerging Concepts, the new facility will become a home for live entertainment, a bar and food trucks.
Chicago-based Emerging Concepts, a "strategic real estate partner" for restaurant and entertainment concepts, plans to utilize the existing building. The bar will utilize local brewers, according to Cornelius Planning Director Wayne Herron, "along with a station for food trucks to pull in and a stage and picnic area for patrons to eat and enjoy live music."
The property, which is owned by Old Swan Development, has been vacant for years. Old Swan's corporate filings show the owners include David Stockwell and Samantha Stockwell, both of Cornelius.
Crews have cleaned up the property and site work is expected to begin soon.
Crews are busy at work on Joe Douglas' newest culinary venue to be known as Cowboy Restaurant. The 4,000 square foot restaurant will be part of Oakhurst II at the northeast corner of Bailey and Hwy. 21, which will also house commercial tenants, and offices. Douglas, who has hit pay dirt with both 131 Main and Tenders Chicken, still hopes to be serving steaks before the end of the year.