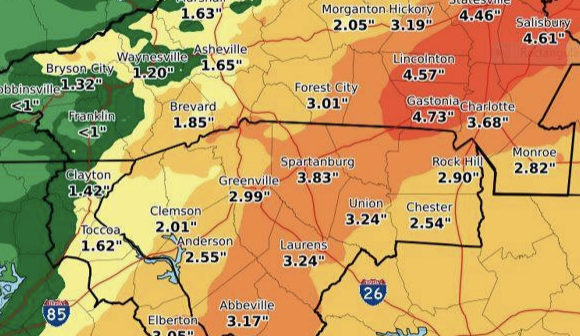 Oct. 11. It looks our tropical visitor is traveling medium-to-heavy in Cornelius, with rain and wind stepping up this afternoon. With most schools closing, the Town of Cornelius is shutting down too. There are forecasts of possible wind gusts early this afternoon.
Town Hall will close down at 2 pm. Normal business hours will resume on Friday.mergency staff is on duty of course.
Republic Services has cancelled trash pick-up today, and they'll evaluate the conditions for services tomorrow. Friday routes will be collected on Saturday.
Weatherman Steve Lyttle, formerly the weather reporter for the Charlotte Observer, says Michael is in the Charlotte area now. "Overnight, as the track of Michael was pushed farther west, the area of heavy rain moved west, too. It looks like most of us will get 3-5 inches, but the Weather Service says rain could fall at a rate of 3 inches per hour at times today, so some locations could get far more than 5 inches. Flash flooding is likely across the area today," Lyttle says.  His Facebook page, Weather With Steve, has good local weather information.
…