Nov. 6. An informal check of polling places in Cornelius indicates voter turnout has been high in spite of off an on rain for much of the morning. At Bethel Presbyterian, poll workers said more than 500 people had voted by 11 am; this, on top of 1,700 who'd already taken advantage of Early Voting.
At Town Hall, a line circled around one of the hallway outside the Community Room. At Jetton Park, there was virtually no wait, but voters came at a steady clip starting at 6:30 am. Community in Christ Lutheran was busy as well.
With the weather clearing up—and lines during early voting at Town Hall—it's a good bet there will be a record turnout locally. It looks like there is nationwide for mid-term elections that have gripped the nation for weeks if not months. Republicans and Democrats are grappling for control of the House and Senate, governorships in 36 states and thousands of state legislative seats.
In the Senate, Republicans hold only a 51-49 majority, but the Democrats' chances to flip control there are slim because only nine of the 35 seats on the ballot were in Republican hands. In the House, Democrats will need to pick up 23 seats to gain a majority. History and the polls are on their side.
Polls will stay open until 7:30 tonight. It's the last day you can cast your ballot in this election after almost three weeks of early voting.
No local Cornelius town officials are on the ballot, but local voters will be asked to approve a $24 million transportation bond package. Endorsed by local officials, the transportation bond would help the town leverage funds for major road improvements.
If you haven't voted already, you will also be selecting a US Representative (District 12) in a race between incumbent Democrat Alma Adams, and challenger Paul Wright; an NC Senate seat (District 41), where incumbent Jeff Tarte is being challenged by Democrat Natasha Marcus; and a seat in the NC House of Representatives (District 98) where incumbent John Bradford is running against Democrat Christy Clark.
In a sincere show of bipartisanship, Voss, a Democratic campaigner, Bradford and George Bell, a Republican judicial candidate, goodnaturedly offered to pose for a photo or Cornelius Today.
The ballot also includes contests for incumbent county commissioners whose terms are up every two years, including Commissioners-At-Large Pat Cotham, Trevor Fuller and Ella Scarborough as well as District One Commissioner Jim Puckett.
There are also a number of judicial and constitutional amendments on the ballot, as well as an uncontested race for Mecklenburg District Attorney, a post currently held by Spencer Merriweather.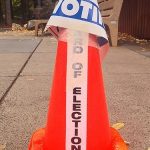 There are four Election Day polling places in Cornelius: Community in Christ Lutheran Church, 7621 Norman Island Drive; Jetton Park, 19000 Jetton Road; Bethel Presbyterian Church, 19920 Bethel Church Road, and Cornelius Town Hall.
If you are unsure which polling place is yours, contact the Mecklenburg County Board of Elections: 704-336-2133. At Town Hall, poll workers said dozens of people have come from Davidson to vote, thinking that Cornelius Town Hall was their polling place. It was one of them—but only for Early Voting.
If you are waiting for better weather, it's here. The National Weather Service says there's only a chance of showers between 2 and 4. It'll be warm, though, with a high near 71.