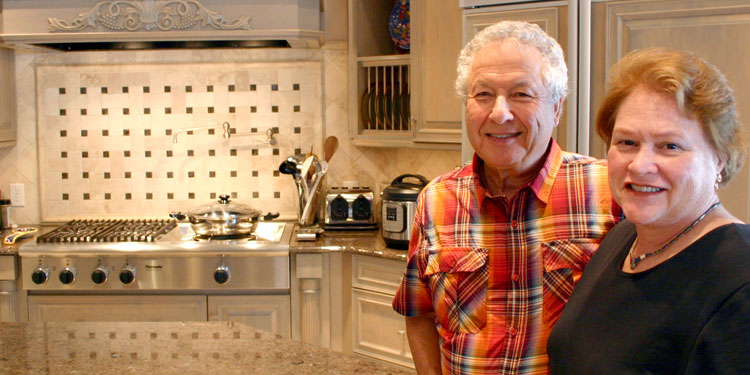 For Arlene and Milt Berkman, living healthy is a way to live well. They adhere to a vegan diet and have all the vim and vigor of couples half their age.
Arlene's blood sugar has dropped from 135 to 107. Milt, 74, has lost about 20 lbs. During the past four and a half years he has gone totally vegan. His blood sugar runs around 80. WebMD says normal blood sugar is less than 100; prediabetes is 100-125; and diabetes occurs if your blood sugar is 126 or higher.
Going vegan means no fish, meat or dairy products.
The Berkmans have gone on health- and diet-oriented cruises and they're adherents of the Physicians Committee for Responsible Medicine which recommends a vegetarian diet. The key to a sustainable vegetarian or vegan diet,  according to PCRM, is a variety of foods, including fruits, vegetables, whole grains and legumes.
The Harbor Light residents are educators: Arlene taught high school health and physical education in New York and New Jersey; Milton, a dentist in New York, also taught a team approach to dental problems at the University of Pennsylvania and New York University.
Arlene is the founder of the Foundation for Respect Ability, an anti-bullying non-profit that is used by Charlotte-Mecklenburg Schools.
The Berkmans' diet emphasizes complex carbohydrates, including protein-rich beans, but no oil. They shared a recipe for a delicious vegan chili that's a huge hit at their Super Bowl party every year.
How did you learn to cook? "I watched and helped my mother prepare meals. I really loved to bake more than cook. Since  my mother did not bake she let me do my thing."
Why do you like this dish? "I have served my Vegan Chili  for the past four years. It is very healthy, filling and versatile. It has evolved from  being a beef chili to a turkey chili and now it is a vegan chili with no animal products."
When do you like to serve it? "I love this dish. You can change the presentation by serving it on any kind of potato, rice, or pasta or even by itself."
How do you like to entertain? "Dinner parties no larger than eight people so that everyone is part of the conversation. The beauty of entertaining at home is that you can hear one another and you are not rushed to leave. I also like to entertain on my porch, if it is not too hot, and hear the lake sounds.  Unfortunately, ever since I started the Foundation for Respect Ability the dinner parties have taken a back seat.
Hobbies "I love gardening, golf and tennis, traveling and learning in general. I have spent a lot of time learning how to prepare vegan."
---
Arlene's Vegan 3 Bean Chili
Yields 6 servings
Vegetables:
2 medium size sweet onions – chopped
3 cloves garlic – chopped
3 stalks of celery chopped
1/2 to 3/4 red pepper chopped
1/2 to 3/4 green pepper chopped
Wherever possible use organic. Saute all the above in a deep pot till they are slightly brown or translucent using vegetable broth low sodium. Keep adding broth as needed to avoid browning. Surprisingly you will not need a lot. You want them to have some crunch.
Separately open the cans of beans (organic if possible) and put in a colander to rinse:
1 (15oz) can of black beans
1 (15oz) can of pinto beans
1 (15oz) can of red kidney beans
Add the 3 bean mix to the cooked vegetables and toss
Add:
1-1/3 cups of water
1 (28oz) diced tomatoes with basil
1 (28oz) can crushed tomatoes with basil
1 (28oz) can plum tomatoes with basil. Cut tomatoes into bite sized pieces or crunch in hand
1 (6oz) can of tomato paste
1 (11.5oz) can V8 juice low sodium.
Mix it all together and see if you want more or less liquid. if you want more liquid, add vegetable broth.
Spices:
1-1/2 tsp salt
1/4 tsp ground pepper
1 tsp chili powder
1 tsp ground cumin
1/4 tsp paprika cayenne
1 tsp oregano dried
Add to pot and mix
Let cook on stove for 20 minutes at a low boil and enjoy