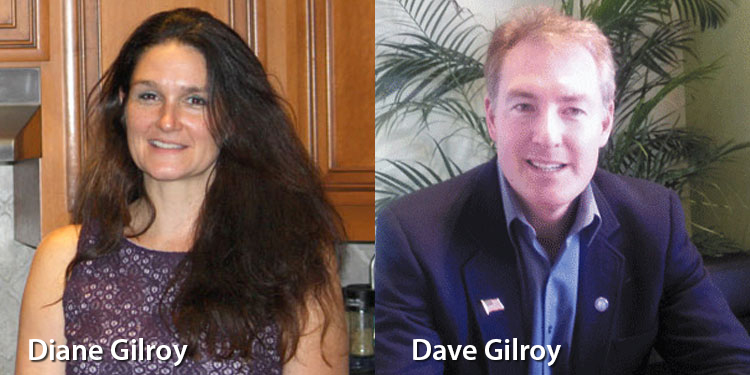 Nov. 8. By Dave Yochum. Cornelius Commissioner Dave Gilroy has congratulated all five Town Board winners after an "unbelievably hard" election that saw both he and wife Diane come in sixth place and seventh place, respectively, in the race for just five seats on the town's governing body.
Dave Gilroy had won seven previous elections, serving as the de facto budget hawk on the Town Board for more than 14 years. But political observers say Diane Gilroy's unexpected entrance into the race may have split the Gilroy vote.
Electing both Gilroys would have put 40 percent of the voting power in a single household.
In an email Dave Gilroy said the 40 percent control issue was "both well-marketed by political opponents (much better than I knew) and grounded in a very real concern among voters."
On Facebook, first-time candidate Diane Gilroy said: "I did learn one lesson and I will own this one. From now on, only one Gilroy will run at a time."
Dave Gilroy made it clear he is not done with public service.
"My commitment to public service is unwavering. My love for Cornelius is deep and forever," he said.
He said he has at least 20 years ahead of him "with the capacity to impact the big decisions"  that drive the cost of living and quality of life in Cornelius.
"I have the highest aspirations for our lovely town, and look forward to serving again," Dave Gilroy said in an email.
Dave Gilroy won 2,063 votes; Diane Gilroy pulled in 1,718. Fifth-place winner Tricia Sisson landed 2,408 votes, the threshold for winning a seat on the board.
Two years ago it was only 1,896, when Thurman Ross beat sixth-place finisher Jim Duke by just six votes. The top vote-getter in 2017 was Dr. Michael Miltich, who collected 2,046 votes then. This year Miltich scored the second-highest tally, with 2,645 votes.
This year Denis Bilodeau was the highest vote-getter among the five winners, with 2,830 votes. The numbers reflect faster growth on the east side of Cornelius, including neighborhoods like Bailey's Glen and Antiquity.
"I would have been the top vote-getter in every prior Cornelius election," Gilroy said.