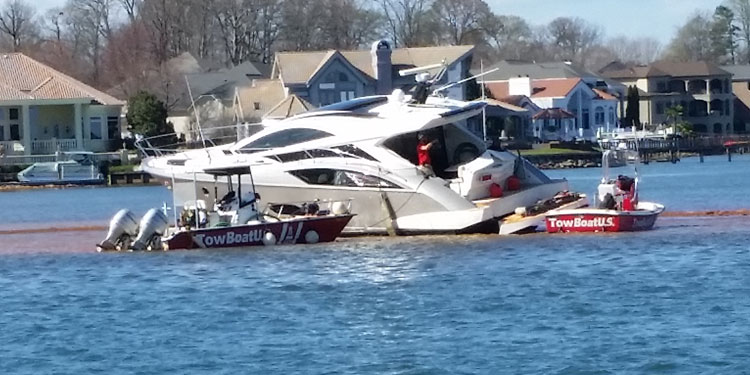 March 16. Re-floating a 50-foot Marquis powerboat that ran hard aground on Lake Norman will be one of the most expensive salvage operations in lake history. The sleek yacht is also one of the most expensive on the lake, priced at more than $1 million when new.
UPDATE: Powerboat to be refloated on St. Patricks Day
The 2009 model boat is entirely out of the water on a shoal just southeast  of Governor's Island. The area is notorious for shoals, which, of course, are hidden by the water that covers them.
Cornelius-based Tow Boat US is handling the salvage operation. Owner Derek DeBord said the vessel, which ran aground over the weekend, is manned 24-7 with a guard on-duty at night.
A barge and crane is expected to arrive on the scene tomorrow to lift the boat from the shoal. The boat's triple power drives, called a pod, are dug deep into hard-packed clay and the boat is virtually locked in place.
Tow Boat, which operates a fleet of seven boats out of Kings Point Marina on West Catawba, is bringing in a sister franchise from Beaufort, NC, to assist with the recovery.
Power boaters are asked to keep their distance and observe a 1,000 yard no-wake zone around the beached vessel.
There is apparently no damage to the hull and the boat can be refloated. It will be taken to All Seasons Marina in Mooresville where the pod, which enables the boat to literally pivot on a dime, or travel at high speeds, will be hauled out an inspected.
DeBord said Tow Boat Lake Norman towed some 800 boats last year.
The Marquis boat line comes out of the old Carver Boat Corp. in Wisconsin. In 2004 it began building the Marquis line with a 59-footer.
But in 2009 the company, as part of the Genmar family of boat builders, declared Chapter 11 bankruptcy, according to Wikipedia. They eventually came out of bankruptcy as Marquis Yachts.
There are a number of used 50-foot Marquis' for sale around the country. Many are priced in the $500,000 to $900,000 range.
The grounded Marquis is owned by a member of the Corriher family. They could not be reached for comment.
[poll id="7″]