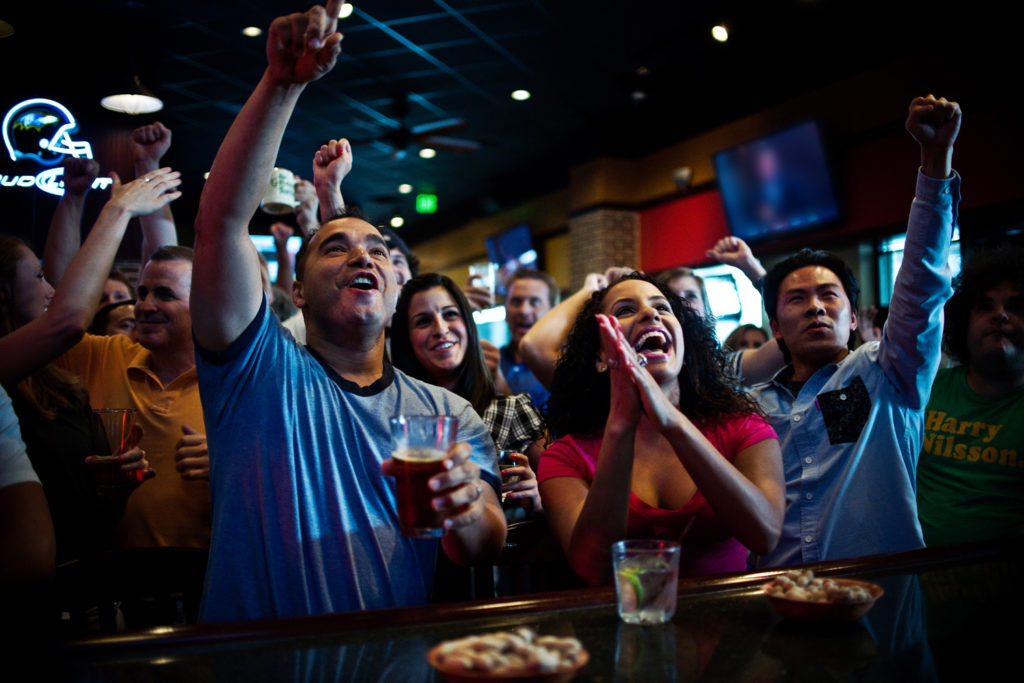 By Donald White. After a summer on the lake or at a favorite vacation spot, you're probably looking forward to popular fall pursuits. The recent start of the NFL season, baseball's upcoming postseason and the promise of cooler weather are all the encouragement you'll need to flock to local sports bars and root on your favorite teams.
The definition of sports bar is admittedly nebulous. For the purposes of this roundup, we picked establishments that have a lot of big-screen TVs or advertise food or drink specials in conjunction with games.
Some of the bars are even well known as hangouts for fans of a particular team — besides the Panthers, that is. Al's in Magnolia Plaza is well-known as a spot for Buffalo Bills fans, for example, and Duckworth's says it regularly has fans sporting gear from the Packers, Bucks, Raiders, Steelers, Browns, Giants and Patriots. Sports bars often proliferate near stadiums, but even in the Lake Norman area, a good 20 miles from Bank of America Stadium, it's not hard to find watering holes that cater to fans.
The term "sports bar" itself is somewhat controversial in the bar and restaurant industry, with some owners and managers saying they're wary of the term because of the less-than-pleasant imagery it calls to mind. "I bristle a little bit at the sports bar tag," Thom Perez, Hickory Tavern's chief marketing officer, told FSR Magazine's website. "It conjures images of sawdust on the floor, duct tape on barstools, and food served in plastic baskets with wax paper. That's not who we are."
Still, sports bars make up a large chunk of the bar, nightclub and drinking establishment industry. And they're doing good business, too. According to Technomic's 2013 BarTAB (Trends in Adult Beverage) report, 31.7 percent of the top-grossing survey participants were sports bars.
But even with multiple sports and special events such as the Olympics and World Cup, there are only so many games to go around each year, and sports bars need more than just fan enthusiasm to stay profitable year-round.
"Sports fills a bar about 70 days a year," bar consultant Jon Taffer, host of Spike TV's "Bar Rescue," told The Post Game website. "People think sports will fill a bar 200 days a year or more. Even in cities like St. Louis where they're hockey nuts and they go to almost every game in the season, the typical sports bar does about 70 days a year in sports."
So what keeps fans coming back during the offseason? "The rest of the time they have to have great food, great beverages going," Taffer told Post Game. His suggestion for keeping customers coming in when their favorite teams take a break? Offer a great burger, a basket item (such as fries or chicken wings), and a dish that includes bacon.
Other popular ways to keep patrons coming back when the game isn't on include theme nights such a poker, karaoke and trivia and bar games such as pool, darts and electronic game consoles. Several venues in our roundup offer more than one of these.
Of course, big-screen TVs are the real draw on game day, and if you're looking to catch the game with a group of friends there is are no shortage of screens at sports bars in and near the 28031: Tropicana Sports Bar told us they have 10 TVs showing games, Lucky Dog Bark & Brew has 14 (including a 100-inch projection screen), Hickory Tavern near Birkdale has 44, and Duckworth's in Huntersville has a whopping 75. Good luck keeping up with all the action there!
The local sports bars we talked to all had at least NFL Sunday Ticket, and several said they subscribed to broadcast packages for other sports such as the NBA, MLB and the NHL as well.
So gather some friends together, grab a cold one (or several), and enjoy this list of favorite drinking establishments for Cornelius sports fans.
Al's
8321 Magnolia Estates Dr., Unit B6
Cornelius, NC 28031
Phone: 704-987-6582
Website: www.facebook.com/Als-Bar-Grille-215956875149085/
Duckworth's
16609 Statesville Rd.
Huntersville, NC 28078
Phone: 704-237-4387
Website: huntersville.duckworths.com
Fox & Hound (Birkdale)
Address: Birkdale Village, 8711 Lindholm Dr.
Huntersville, NC 28078
Phone: 704-895-4504
Website: foxandhound.com
Harvey's (Huntersville)
Address: 13812 Cinnabar Place
Huntersville, NC 28078
Phone: (704) 947-5080
Website: www.harveyslkn.com/index.html
Hickory Tavern
Address: 9526 Birkdale Crossing Drive #30
Huntersville, NC 28078
Phone: (704) 897-8490
Website: www.thehickorytavern.com
Jack's
Address: Magnolia Plaza, 8301 Magnolia Estates Drive
Cornelius, NC 28031
Phone: 704-892-4433
Website: jackscornertaplkn.com
Kilted Buffalo (Birkdale)
Address: Birkdale Village, 8625 Townley Road
Huntersville, NC 28078
Phone: 704-892-7571
Website: www.thekiltedbuffalo.com
Lake Town Tavern
Address: 19708 W. Catawba Ave.
Cornelius, NC 28031
Phone: 704-896-7109
Website: www.facebook.com/LakeTownTavern/
Lucky Dog Bark & Brew
Address: 19607 Statesville Road
Cornelius, NC 28031
Phone: 704-896-5550
Website: luckydogbarkandbrew.com
Mac's Speed Shop
Address: 19601 Liverpool Parkway
Cornelius, NC 28031
Phone: 704-892-3554
Website: www.macspeedshop.com/lake-norman/
Prosciutto's Pizzeria and Pub
Address: 20920 Torrence Chapel Road
Cornelius, NC 28031
Phone: 704-439-4444
Menu: prosciuttos.com
Tropicana Sports Bar
Address: 19732 W. Catawba Ave.
Cornelius, NC 28031
Phone: 704-896-2726
Website: www.facebook.com/worldfamousTropicana
---
Next month: Our take on Comfort Food