​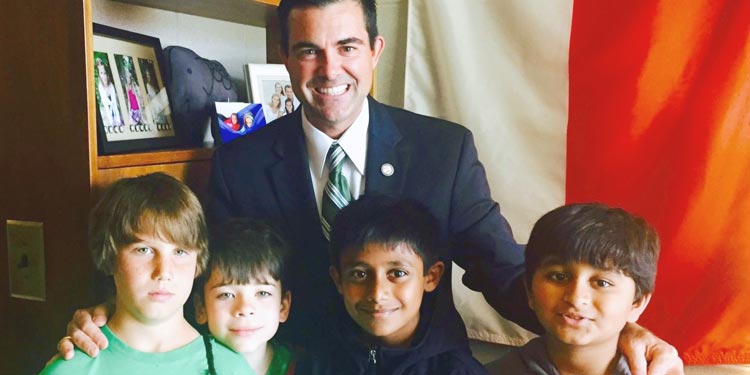 By John Bradford. OPINION.I recently read that some members of the new Charlotte City Council wanted to explore increasing their salaries. Today, Charlotte City Council members make $19,809 in salary, plus a general expense allowance of $5,800, a $4,000 auto allowance and a $3,100 technology allowance each year. Their total pay is $32,709.
While I will withhold my thoughts on this specific issue, it made me reflect on my role as a North Carolina legislator serving in the House of Representatives. Most people do not know our schedules or compensation, so I figured it would be worth sharing. While my experience is from the NC House, the schedule is similar for the NC Senate. Our compensation, though, is exactly the same.
Session: The NC legislature operates on a long and short session schedule.  The long session occurs during odd years (2013, 2015, 2017, etc.). We start in mid-January and work very hard to adjourn by the end of July. The adjournment date is not certain nor dependable. My freshman year, for example, we did not adjourn until September 30th.
The short session occurs in even years (2014, 2016, 2018, etc.) which happens to be the same year we have our general elections. Our seats are up for re-election every two years.
During the long and short legislative sessions, we are in Raleigh four days a week; week after week until we adjourn. We leave our homes and districts Monday morning to attend early afternoon meetings. Every Monday night we have legislative session (when we cast votes) at 7 p.m. When many work days are ending, our work day is really just beginning. 
On Tuesdays and Wednesdays, we have standing committee and caucus meetings starting at 8 a.m. with legislative sessions usually starting around 2 p.m. Our voting sessions often last into the evening which means we eat late dinners—not ideal for summer beach attire. On Thursdays, we usually have the last committee meeting at 10 a.m.—ending by noon—so we can start voting at 1 p.m. The goal is to try and finish our legislative business by 3 or 4 p.m.
In theory, we should be able to drive back to our districts to see our families, perhaps joining them for a late dinner and kiss the kids goodnight before bedtime. On Fridays we are in our districts to meet constituents, run our businesses and spend time with our families.
Compensation: We are paid a salary of $13,951 per year. While we are in legislative session we are paid a $104 daily stipend which is to be used for food and lodging; however, this stipend does not cover our daily expenses. The official rate for a hotel is $85 before taxes (assuming you can even find a hotel offering the State rate) and hotel parking can cost up to $12 a day. This only leaves a few bucks to buy breakfast, lunch and dinner.
Mileage: Our mileage rate is still set at the federal rate from 1993 and has not changed. We are paid 29 cents per mile and we receive one round trip per week. By comparison the 2017 federal rate is 53.5 cents per mile.
Public servants run for office because of their passion to serve. The candidate and their respective family knows what they are collectively signing up for prior to being elected. Holding office is elective and no one holds us hostage in our roles.
On a personal level, I have an incredibly supportive family and the best and brightest employees to run my business while I am in session. I love serving the good folks in District 98 and I do not do it for money or credit. It's truly an honor and privilege to serve and that's the only payment I need.
John Bradford represents District 98 in the North Carolina House of Representatives. He was elected in 2014 having served on the Cornelius Town Board starting in 2011. He is the CEO and founder of Park Avenue Properties and lives on Nantz Road with his wife Shea and four children. Before Park Avenue Properties he was a sales manager and sales executive with IBM as well as an environmental engineer with ExxonMobil. He earned an engineering degree from Clemson University (1996) and an Executive MBA from the University of Memphis (2000).