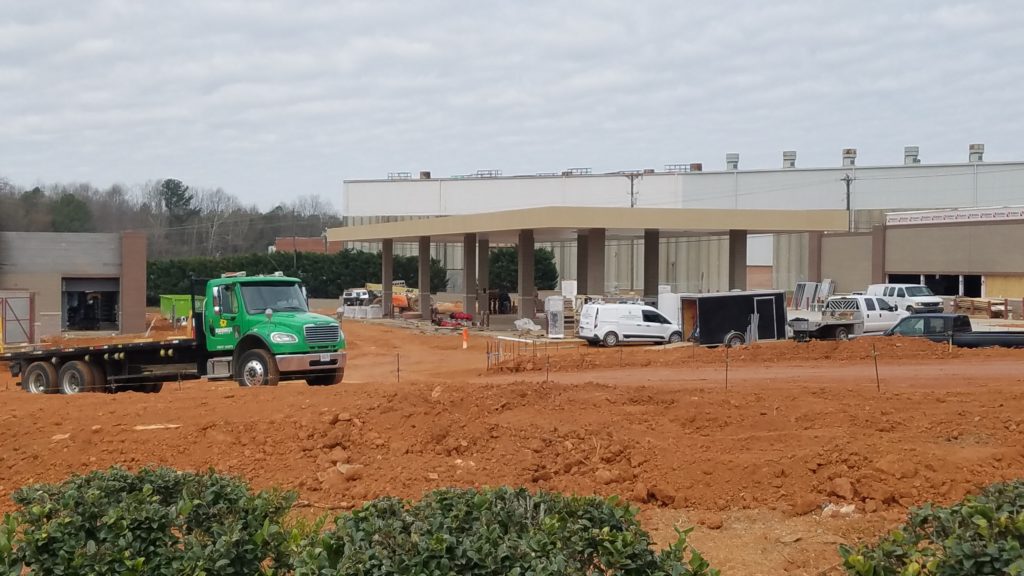 March 13. By Dave Vieser. Change will come quickly to Cornelius in the next year as commercial projects occupying some 71 acres of land and comprising over 150,000 square feet either break ground or open for business.
Planning Director Wayne Herron updated town board and staff during the town's annual budget retreat in Winston Salem last week.
"We have projects developing throughout town and especially along Hwy. 21, which is really exploding." Herron said. "Clearly the commercial developers have discovered Cornelius and they all want a piece of the action. Now it's our job to make sure they do it right."
Herron outlined of the projects currently underway or about to start at the Town Board retreat in Winston-Salem:
Arby's: A new Arby's is under construction on Hwy. 21 just south of the Westmoreland intersection. The 2,500 square foot building is a new design for the fast food chain and should be open by fall of this year.
Antiquity Commercial: Slightly less than one acre awaits commercial development near the USA Dental and Novant offices. Proposals have received administrative staff level approval.
Boatyard Eats: A combination restaurant and events venue is planned for the northeast corner of 21 and Westmoreland Road, where the long-closed Anchorage Marine building sits. A public hearing before the town board is currently scheduled for Monday April 3.
Catawba/Bethel Building: A 5,400 square foot two story office building is planned at the southwest corner of Bethel Church Road and West Catawba Avenue. The proposal has received administrative staff level approval.
CATS Park and Ride: The 4.3 acre park and ride facility is under construction and should be ready by fall. The facility will include 355 parking spaces and a 250 square foot shelter building.
Circle K: Construction continues at a rapid pace on their 3.25 acre convenience store and fueling station at the southwest corner of Bailey Road and Highway 115. It is slated to open this spring.
DB Holdings: The town board just approved rezoning for a combination automobile sales, service and storage facility on the west side of 21 between Westmoreland Road and West Catawba Avenue. The new building is within an area specially earmarked by the town for automobile sales operations.
Dynamic Ballroom: A 3,800 square foot single story dance studio is planned directly adjacent to the UPS Building on Bethel Church Road. This project has received staff level approval and groundbreaking will occur shortly.
Grace Care Center: Grace Covenant will expand its community outreach on Smith Circle with a community center, offices and bike repair shop.
Hyde Park: An extensive array of new office buildings occupying some 33 acres on five parcels continues to rise on the south side of Bailey Road west of Highway 115. Building 300 was recently completed and Building 400 should be completed late this year.
Lake Norman Hardware: A proposed 11,000 square foot hardware store continues to undergo planning department review. The location is on Jetton Road extension adjacent to Rite Aid Pharmacy.
Mama's Pizza: A completely new 2,200 square foot building is planned for the property just south of Fire Station No. 1. A town board public hearing is currently scheduled for Monday June 5. Precisely where the building is sited is still being discussed.
Oakhurst II: Groundbreaking should occur within the next several weeks for three buildings comprising 33,000 square foot building on a three acre parcel to house commercial tenants, offices and a restaurant. The eatery, known as a Cowboy Restaurant, is scheduled to open in fall 2018.
Pike's Nursery: A nursery center and greenhouse on some 3.68 acres is planned for the east side of Highway 21, south of Westmoreland Road. The facility, which will include a 10,000 square foot building, 30,000 square foot greenhouse and 22,500 square foot display area, has received administrative staff level approval.
Quick Trip (QT): A 5,700 square foot convenience store is planned for the northeast corner of Hwy. 21 and West Catawba, at the current site of Acropolis. A Public hearing is currently scheduled for April 17.
Southern Cross Aviation: a 5,000 square foot office building is virtually completed on Jetton Road extension.
Sweet Magnolia Estate: This 9,000 square foot wedding and catering events facility is currently under construction on the big bend in Bailey Road, with a summer 2017 completion expected.
Wendy's Restaurant: A variance was granted in February so that Wendy's, located on a one acre parcel near West Catawba and I-77, can remain in their current spot while upgrading their building.