Preserving a Habitat
The official start of the Heron Island stabilization project on Lake Norman took place last month on Davidson Creek in Cornelius, just off Staghorn Drive, at the terminus of Bethel Church Road.
It is hoped that the project will help protect Blue Herons on Lake Norman while also shielding the island itself from further shoreline degradation caused by years of wind and wave erosion.
Herons usually breed in colonies. Heron Island has dozens of nests, especially visible from the air or from a boat at a respectful distance.
Herons may have to fly miles to catch sufficient prey to feed their young. The great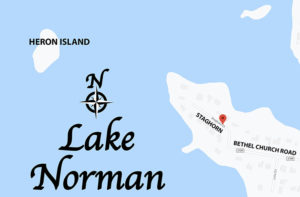 blue heron (Ardea herodias) occurs in every state of the continental U.S. during the summer months, but live exclusively in southern states during the wintertime.Higher water levels help the North Carolina Wildlife Federation volunteers with restoration efforts. Blue Herons are designated as a vulnerable species in the Piedmont due to development along rivers, reservoirs and adjacent floodplain forests, said Billy Wilson, chair of NCWF. Great blue herons were hunted heavily for their beautiful plumes in the 19th and early 20th centuries. They are now protected by law, and their populations have rebounded.
The project is funded by a grant from Duke Energy's Habitat Enhancement Program.
This particular heron rookery island is positioned on the main channel in Davidson Creek, where there is significant boating traffic and wind-generated waves," said Tim Gestwicki, CEO of NCWF.
Gestwicki noted that restoring and stabilizing the island's main channel side is a significant team effort and involves creating a rock and living shoreline using 300 tons of material and native plants. The project will take place over the next few weeks, depending on water levels and weather conditions.
Volunteers from the Lake Norman Wildlife Conservationists, a local Community Wildlife Chapter of NCWF, will plant native buttonbush and silky dogwood. Lancaster Dock and Dredge will stabilize the shoreline with rock mined from a Concord quarry by Vulcan Materials Company.
For years, the Lake Norman islands have been favorite gathering spots, landmarks and places to view wildlife. While some are well-protected from wind and waves, other islands are more exposed to natural and man-made elements that cause shorelines to cave, degrade and erode.
Many islands where family and friends used to gather are now shoals marked with a sign on a pole – a stark reminder of the memories made on land that's now underwater, Gestwicki said.
The NC Wildlife Federation streams a Heron Island nest camera during active nesting months.
The cameras, online at www.ncwf.org and www.lnwc.org , are expected to be up and running again  in March.